2023 General Sessions
General Session speakers selected to motivate and inspire did just that, speaking to the thousands of attendees at the 2023 Joint Annual Conference hosted by the Illinois Association of School Boards, Illinois Association of School Administrators, and Illinois Association of School Business Officials. Each of the speakers incorporated ideals of "community" into their words for those assembled from the Illinois educational leadership communities.
First General Session
Tererai Trent, Ph.D., is an internationally renowned voice for quality education and women's empowerment. Trent spoke of her dream to be educated, and how she realized, planted, and achieved her dreams. Trent's foundation is called "Tinogana" which means "It is achievable."

"What are your dreams … am I even supposed to dream?" Trent recalled asking has young woman. "I have a dream to go to America, I want to have an undergraduate degree, I want to get a master's, and I want to have a Ph.D. I could feel the other women looking at me wondering 'Are you crazy?' and 'How can you think like that?'"




Trent discussed the power of encouragement and told stories of how she achieved her educational dreams – that she and written down and buried – planted – as was the custom in her culture. She later added another dream, to bring education to her community in Zimbabwe.

"Sometimes all a person needs is for someone to look right into your eyes and say, 'I see you, I believe in you," Trent said of her journey in education. "Your dreams have greater meaning when they are tied to your community."

Trent's keynote was part of the First General Session at the Joint Annual Conference on November 17. Simon Kampwerth Jr., then President of the Illinois Association of School Boards, opened the session with a welcome, stating, "The work we undertake … is vital to our hard mission of providing a quality education for every child. As school board members, administrators, and business officials we are the cornerstone of that mission and part of the foundation that assures our schools are a safe place for students to thrive and dream big."
Second General Session
Author and consultant Bill de la Cruz uses his vast experience as a mediator and workshop leader to guide individuals and groups through the process of personal transformation. He also used his experience as a past school board member, board president, and Director of Equity and Inclusion for Denver Public Schools to relate to the gathering at the Second General Session.

"In these challenging times that we're in," de la Cruz said, "I want to talk about how we move from a piece of paper – a policy – that has a lot of words on it, to actualizing cultures, and environments, and practices that lead to belonging."

The conversation starts, according to de la Cruz, with cultural grounding, starting with yourself and developing a purpose of identifying your role, using self-awareness and critical self-reflection, understanding what it means to be a transformational leader, and balancing that with building relationships. He stated that transformation is necessary in systems designed to be equal, but that does not mean they are diverse or equitable. Using a purposeful conversations framework is beneficial to the work.




"We have to recognize that we can't talk about equity, diversity, equality, and belonging without understanding what's going on in our communities," he said, and later explained, "Transactional leadership is our status quo. We must get away from transactional leadership – what can I get from you – and move to adaptive leadership, which is "how do I work with you.' The solutions are in our communities."

The Second General Session was brought to order by David Bein, Ph.D., president of the Illinois Association of School Business Officials. The Conference's sponsoring organizations joined Bein on stage to thank Michael A. Jacoby, Ed.D., who had announced his upcoming retirement and was participating in his last Conference as Executive Director and CEO of Illinois ASBO.
Third General Session
Closing out the 2023 Conference was the Third General Session, opened by Roger Alvey, Ed.D., president of the Illinois Association of School Administrators. It included an address by educator, author, and speaker Sarita Maybin, who breaks down barriers to reveal how to work together better and transform uncomfortable conversations into constructive communication.




Maybin engagingly offered wisdom on "Communicating for Success" starting with the phrase "If you can't say something nice …" noting that people everywhere can complete that phrase it "don't say anything at all." But what happens when you still have to say something nice, when we need to speak up? Maybin answers, "Say what you mean, mean what you say, and don't say it mean."

The event included time for attendees to exchange insights on communication with their neighbors. Using the examples of raising teenagers and working with people who act like teenagers, Maybin offered a series of re-wording ways to approach difficult conversations and 10 phrases that work, including "Help me understand," and "I noticed and I'm wondering…" which allow you to get more information without "being ugly."

"Having the conversation positively also helps us put people on notice – I see you," Maybin notes. "And also makes it known to the group that this is not the ideal behavior. They now know, the accountability is there."

Maybin also offered ways to determine if it would help to address a conflict and work with people who may not be aware they are part of the problem, setting aside our own "evil twins" to have productive conversations via our better selves. Using AIR (awareness, impact, request), Maybin offers positive ways to address such conversations in our communities, with the reminder that "People closest to the problem are also the ones closest to the solution."




The three keynoters offered messages of inspiration, community, and perseverance for school leaders. Each of the 2023 General Sessions also included award presentations and introductions of officers and directors from the sponsoring organizations. Additionally, at the First General Session the Conference convened with the National Anthem, sung by Alliah Haines-Penny, a student at Rock Falls THSD 301 and the Presentation of the Colors by the Danville High School JROTC.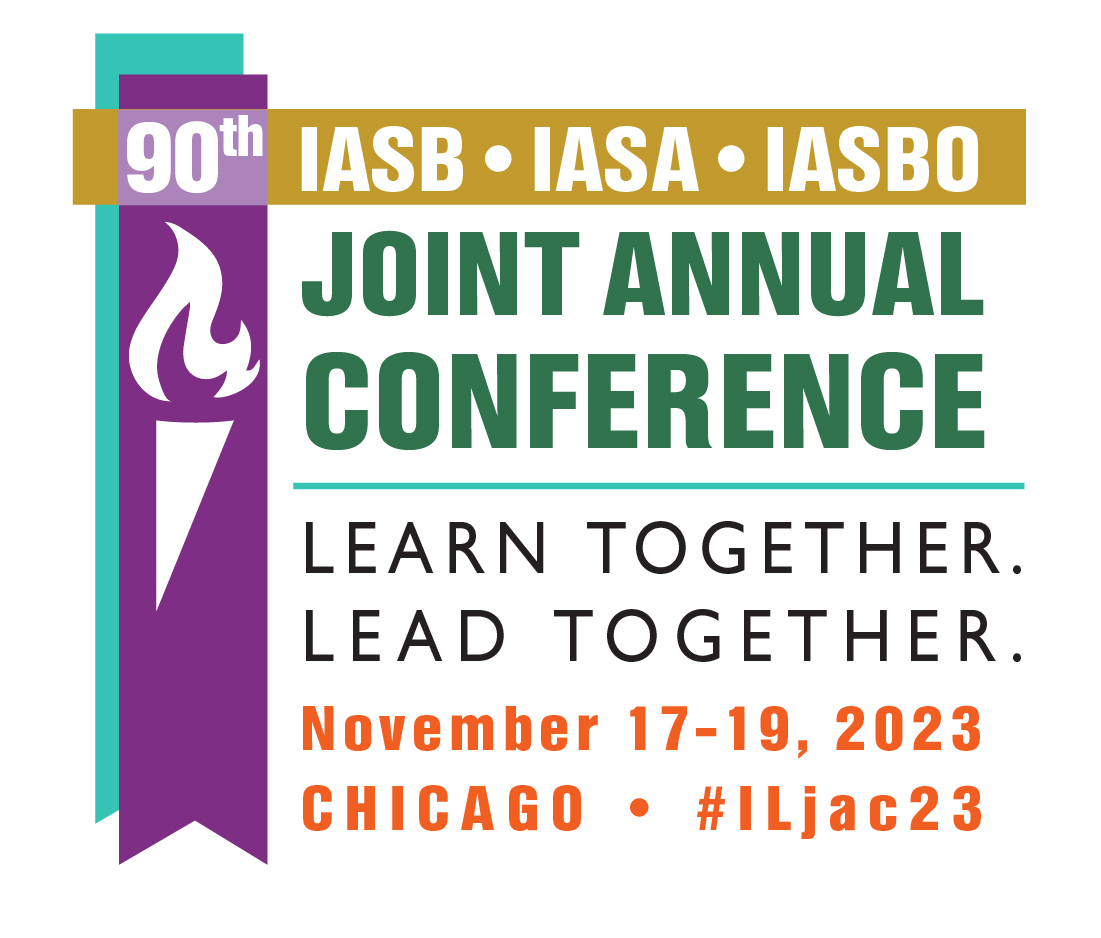 Conference Highlights