School Board Elections
Get equipped with key dates, qualifications, and helpful information for school board candidates.
NEWS CLIP SERVICE
Leading News
Your leading education news from around the state
PODCAST
Inside IASB
A new talk podcast introduces listeners to school board service
DuPage Division Meeting 02/01/2023

Join us to hear Attracting, Retaining, and Growing Talent in a Teacher Shortage: Creative Ways to Grow the Teaching Profession in Challenging Times. Presented by Dr. Ehren Jarrett, Superintendent and Matt Zediker, Chief Human Resources Officer at Rockford SD 205. Registration closes on January 25, 2023.

Details

Focusing the Board on Renovation 02/02/2023

The board plays a major role in the maintenance of facilities, including planning for summer renovations. Districts should review the five-year maintenance program at regular board meetings, selecting projects to be completed and finding the funding.

Details

Starved Rock Division Meeting 02/02/2023

A strong ag program starts with a strong and supportive school board and administration! Join us to hear A Model of Excellence in Agricultural Education presented by instructors Riley Hintzsche and Gwen Heimerdinger. Also presenting will be students: Alexis Walkling, Sydney Long, and Palmer Phillis of Streator Township High School. Dinner Meeting registration closes on Monday, January 30, 2023.

Details
View All Events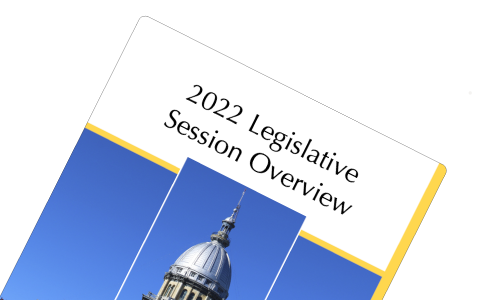 2022 Legislative Session Overview
Approximately one-third of bills introduced by members of the Illinois General Assembly annually have public education implications. The 2022 Legislative Session Overview includes an annual summary of the outcomes and details of bills that were approved, defeated, or amended, and how the proposals impact public education in Illinois.
Learn More
Annual School Calendar
The 2022-2023 Annual School Calendar is published by IASB to assist school districts with preparing their local school calendars. Dates included in the calendar comply with all statutory deadlines contained in the Election Code, School Code, and selected acts of the General Assembly.
View Annual Calendar
January/February Journal Looks at the Numbers
The January/February issue of the IASB Journal recaps the Joint Annual Conference and reconvenes the administrator salary series.
Lighting the Way to Excellence in School Governance
100+

Years of Service

IASB is here to assist boards of education with training, policy, resources, and programing all supporting quality public education.

849

Member Districts

More than 99 percent of public school boards in Illinois hold active membership.

5,900+

Elected Officials

School board members volunteer their time to ensure growth and progress not only for students, but for entire communities.

21

Divisions

IASB field services directors serve as a direct link between the school boards and Association services.

1,000+

Newly-Elected Board Members

IASB provides training and resources on the roles and responsibilities of the board and board members.