INTERESTED IN SCHOOL BOARD SERVICE?
School Board Elections
Get equipped with key dates, qualifications, and helpful information to campaign for your local school board.
VIRTUAL SUMMIT 2020
Registration Opens October 1
IASB presents a day of leadership development, insights, and inspiration in a virtual format on November 20.
LEARN AT YOUR CONVENIENCE
Online Learning
Stay current on policy and legal issues and upgrade your knowledge of current education topics
Delegate Assembly Informational Webinar 09/28/2020

The IASB Delegate Assembly is going virtual for 2020. IASB will offer an informational webinar on September 28 to explain the virtual format and preview this year's Delegate Assembly.

Details

Starved Rock Division Virtual Meeting 09/29/2020

Join us for The Unlearning Leader: Leading for Tomorrow's Schools Today presented by Michael Lubelfeld, Ed.D. and Nicholas Polyak, Ed.D. While the meeting begins at 6:45, the virtual doors will open at 6:30 to view this year's award recipients.

Details

Video Conferencing and Education: How Video Conferencing Can Enrich Education in Your Schools (Combined Divisions Event) 09/29/2020

This combined Virtual Division Meeting is hosted by Patrick Allen and Reatha Owen for the following divisions: Abe Lincoln, Blackhawk, Central Illinois Valley, Corn Belt, Kaskaskia, Southwestern, Two Rivers, and Western. Brent McArdle of RoomReady presents with Superintendent Matthew Brue of PORTA CUSD 202 on how video conferencing can solve today's educational challenges.

Details
View All Events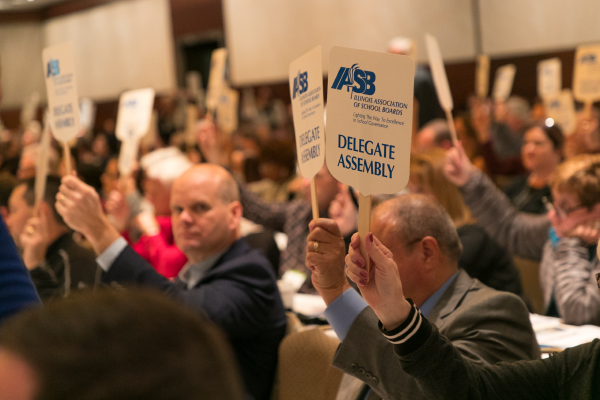 Delegate Assembly During a Pandemic
The 2020 IASB Delegate Assembly will meet in an all-online setting via Zoom on November 14, 2020. To prepare school boards for the new format, IASB will host an informational webinar to explain the virtual Delegate Assembly and discuss the process for 2020. The webinar is scheduled for September 28 at 5 p.m. and will cover the procedure for this year's assembly. Under normal circumstances, the Delegate Assembly is held at the Joint Annual Conference in Chicago in November. That event has been canceled for 2020.

COVID-19 Guidance and Resources
During this unprecedented national health emergency, school districts face a myriad of issues in terms of dealing with school governance and operations. IASB has compiled guidance to assist boards of education as they prepare to confront the challenges of the 2020-2021 school year. Local boards of education are encouraged to use these resources to spur conversation on the critical issues involving governance, policies, programming, personnel, health and safety of the school community, and the fiduciary responsibility of the board of education.

Guidance and Resources
Journal Revisits Educational Equity
The September/October issue of the Illinois School Board Journal offers a series of articles that offer perspectives on educational equity, including an updated "Ten Ways School Boards Can Champion Racial Equity" which includes an extensive list of resources.

Read More
Lighting the Way to Excellence in School Governance
100+

Years of Service

IASB is here to assist boards of education with training, policy, resources, and programing all supporting quality public education.

848

Member Districts

More than 99 percent of public school boards in Illinois hold active membership.

5,900+

Elected Officials

School board members volunteer their time to ensure growth and progress not only for students, but for entire communities.

21

Divisions

IASB field services directors serve as a direct link between the school boards and Association services.

1,000+

Newly-Elected Board Members

IASB provides training and resources on the roles and responsibilities of the board and board members.