CONFERENCE UPDATE
Conference Speakers Announced
Three keynote speakers have been selected as partners in excellence
School Board Elections
Get equipped with key dates, qualifications, and helpful information for school board candidates
NEWS CLIP SERVICE
Leading News
Your leading education news from around the state
South Cook Division Meeting 10/5/2022

Registration — 5:30 PM Call to Order/Presentation — 6:00 PM Dinner — 6:45 PM Business Meeting — 7:15 PM Mental Health and Education Integration Presented by Dana Pavlu

Details

Starved Rock Division Meeting 10/06/2022

Join us for dinner at 6 p.m. and hear Reigniting the Spark, presented by Author PJ Caposey, Superintendent of Meridian CUSD 223. Registration is now open.

Details

Option 1: Enhanced School Finance Necessities; Option 2: Grow Your Own to Confront the Teacher Shortage (Combined Divisions Event) 10/06/2022

All IASB members are invited to attend this combined, 2022 Virtual Division Meeting. This meeting will feature two breakout sessions—addressing school finance and the teacher shortage—designed to inform and encourage application among school board members, superintendents, administrators, and districts-at-large.

Details
View All Events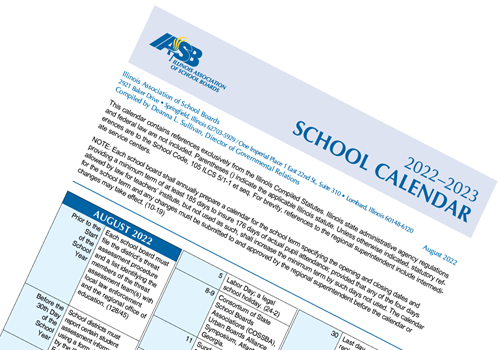 Annual School Calendar
The 2022-2023 Annual School Calendar is published by IASB to assist school districts with preparing their local school calendars. Dates included in the calendar comply with all statutory deadlines contained in the Election Code, School Code, and selected acts of the General Assembly.
Learn More
Conference Planner Available
Those planning to attend the 2022 Joint Annual Conference are encouraged to use the Online Planner to create a personalized agenda. The Planner allows individuals to view panel descriptions and presenters, see exhibitors, and sort sessions by topic, venue, time, or date.
View Online Planner
Raising Your Voice, and Others
In the latest issue of the Illinois School Board Journal, discover the importance of student voice, learn about civil discourse in challenging times, and catch the next wave in community engagement.
Lighting the Way to Excellence in School Governance
100+

Years of Service

IASB is here to assist boards of education with training, policy, resources, and programing all supporting quality public education.

849

Member Districts

More than 99 percent of public school boards in Illinois hold active membership.

5,900+

Elected Officials

School board members volunteer their time to ensure growth and progress not only for students, but for entire communities.

21

Divisions

IASB field services directors serve as a direct link between the school boards and Association services.

1,000+

Newly-Elected Board Members

IASB provides training and resources on the roles and responsibilities of the board and board members.