CONFERENCE
Joint Annual Conference
A Recap of the 2021 Conference and Request for Proposals
NEWS CLIP SERVICE
Leading News
Your leading education news from around the state
Strategies to Protect Your District from Ransomware 12/09/2021

Districts across the country have seen an increase in cyber and ransomware attacks. A school board will want to ask key questions of the administration and IT professionals to get an understanding of the issues, the district's action plan, and resources to support security efforts. Join David Schuler, Ph.D. and Tony Schlorff from THSD 214 (Arlington Heights) for this critical discussion.

Details

Board of Directors' Executive Committee Meeting 01/14/2022

Details
View All Events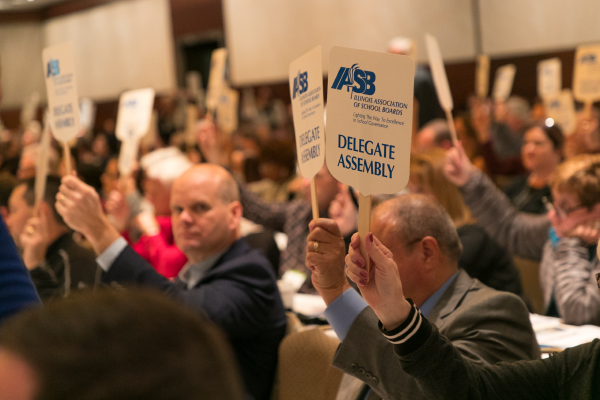 IASB Delegate Assembly
The Delegate Assembly met on November 20 in Chicago to consider new proposals and amendments submitted by IASB members. The Resolutions Committee recommended adoption of 10 proposed new resolutions, approval of one amendment to an existing position, four reaffirmations of a current positions, the adoption of a new Belief Statement, and amending Belief Statement.

Learn More
School Board Members Day
November 15 of each year is recognized as Illinois School Board Members Day. IASB has compiled materials that can be used to honor local board members, including a sample article, a certificate that can be personalized, a list of tips to thank board members, and a sample resolution. A number of images and logos are also available to share on social media and
#ThankABoardMember
.
View Resources
Journal Covers the Educator Shortage
The Illinois School Board Journal sounds, or re-sounds, the alarm on the educator shortage crisis in Illinois. Read about solutions with local potential for Illinois school districts and the teacher pipeline, plus collective bargaining, leading with trust, and policy changes.
Lighting the Way to Excellence in School Governance
100+

Years of Service

IASB is here to assist boards of education with training, policy, resources, and programing all supporting quality public education.

848

Member Districts

More than 99 percent of public school boards in Illinois hold active membership.

5,900+

Elected Officials

School board members volunteer their time to ensure growth and progress not only for students, but for entire communities.

21

Divisions

IASB field services directors serve as a direct link between the school boards and Association services.

1,000+

Newly-Elected Board Members

IASB provides training and resources on the roles and responsibilities of the board and board members.