NEW BOARD MEMBERS
A Roadmap to Success
Training and additional opportunities for new board members to learn and grow
STARTING RIGHT
Develop Your New Governance Team
Schedule a Starting Right in-district workshop to build quality communication and relationships.
NEWS CLIP SERVICE
Leading News
Your leading education news from around the state
Corn Belt Division Governing Meeting 06/08/2023 - Now Virtual

Every two years, after the April school board elections, we reorganize the Division by electing division officers. We have the Resolutions Chair position open. If you would like to be more involved in your division, consider being part of the division leadership team. Contact Reatha Owen for more information.

Details

Two Rivers Division Governing Meeting 06/08/2023

Registration is open!

Details

9-10

Jun 2023

Jun 9-10, 2023

Board of Directors' Meeting 06/10/2023

Details
View All Events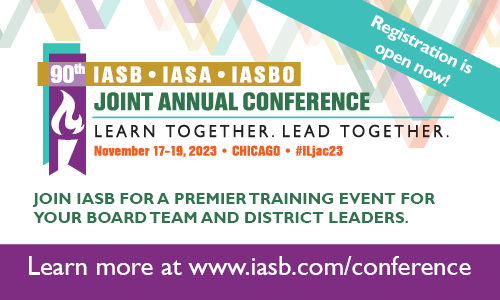 2023 Joint Annual Conference Registration
Registration for the 2023 Joint Annual Conference is now open. Join Illinois education leaders to celebrate 90 years of leadership and learning at the Annual Conference taking place November 17-19 in Chicago. Take part in multiple opportunities for professional and personal development, and network with school officials from across the state.

Register Now
Legislative Updates
Stay informed of important education-related issues being discussed at the state and national levels using IASB legislative resources. Follow along with state and federal legislative updates, and join school board advocacy efforts by utilizing IASB Call-To-Actions when bills impacting public education are up for a vote.
Legislative Resources
May/June Journal Welcomes New Board Members
The May/June issue of the Journal welcomes new school board members and offers information the Evidence-Based Funding formula and expert commentary on policy work, advocacy in action, and more.
Lighting the Way to Excellence in School Governance
100+

Years of Service

IASB is here to assist boards of education with training, policy, resources, and programing all supporting quality public education.

849

Member Districts

More than 99 percent of public school boards in Illinois hold active membership.

5,900+

Elected Officials

School board members volunteer their time to ensure growth and progress not only for students, but for entire communities.

21

Divisions

IASB field services directors serve as a direct link between the school boards and Association services.

1,000+

Newly-Elected Board Members

IASB provides training and resources on the roles and responsibilities of the board and board members.