PARTNERS IN EXCELLENCE
2022 Joint Annual Conference
Registration for the in-person IASB•IASA•IASBO Joint Annual Conference is now open
LEARNING TOGETHER
Training Opportunities for School Boards
Learning together will move your board forward as a governance team
NEWS CLIP SERVICE
Leading News
Your leading education news from around the state
Your District and the Illinois Municipal Retirement Fund 08/18/22

Illinois school districts are responsible for funding support staff pensions with the Illinois Municipal Retirement Fund. Join IMRF Field Representative Mandy Beedie-Powers for an informative session regarding the funding of the system, the benefits for employees, and your board's responsibility as one of almost 3,000 employers within the system.

Details

Introduction to Social Emotional Learning in Illinois 08/25/2022

Social and Emotional Learning (SEL) leads to beneficial outcomes for students and schools. Join Ryan Wamser and Matt Weld from ROE 40 and the Area 5 SEL Hub to learn what SEL looks like in schools and what current state initiatives can mean for districts as they strengthen their work in supporting student and staff mental health, resiliency, and equity.

Details

The Value of School Communications 9/8/2022

Communicating the right message at the right time to the right audience can be the difference between success and failure. Learn how to navigate district communications in this webinar.

Details
View All Events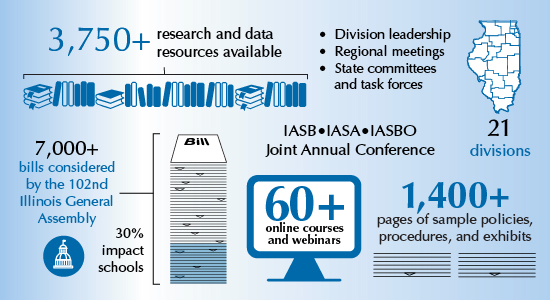 Merits of Membership
IASB offers numerous tools and services to Association member school boards based upon the Foundational Principles of Effective Governance. View the "Merits of Membership" infographic for a brief snapshot of the many resources and services available to assist Illinois school board members with their local governance responsibilities and board duties.
Learn More
COSSBA FAQ
IASB is a founding member of the Consortium of State School Boards Associations (COSSBA), a national alliance dedicated to sharing resources and information to support, promote, and strengthen state school boards associations. Through its membership IASB is able to provide local districts access to COSSBA training opportunities, resources, and services.
Visit the COSSBA website to learn more
.
View FAQ Resource
Summer Reading in the Journal
The July/August 2022 issue of the Illinois School Board Journal features a variety of topics for summer reading, from advocacy to literacy to energy and more.
Lighting the Way to Excellence in School Governance
100+

Years of Service

IASB is here to assist boards of education with training, policy, resources, and programing all supporting quality public education.

848

Member Districts

More than 99 percent of public school boards in Illinois hold active membership.

5,900+

Elected Officials

School board members volunteer their time to ensure growth and progress not only for students, but for entire communities.

21

Divisions

IASB field services directors serve as a direct link between the school boards and Association services.

1,000+

Newly-Elected Board Members

IASB provides training and resources on the roles and responsibilities of the board and board members.