NEW BOARD MEMBERS
A Roadmap to Success
Training and additional opportunities for new board members to learn and grow
NEWS CLIP SERVICE
Leading News
Your leading education news from around the state
LEARN AT YOUR CONVENIENCE
Online Learning
Stay current on policy and legal issues and upgrade your knowledge of current education topics
All About YOU: Finding Your WHY and Making an IMPACT 04/15/2021

Join IASB and Courtney Orzel, former Illinois school district superintendent and currently the Associate Director/Professional Development at IASA, presenting an informative, inspirational, and energizing session focused on the impact Administrative Professionals have on organizations. "Find your WHY and leave with practical, tactical ways to energize your work and your life."

Details

IASB Welcomes You to the Board! 04/15/2021

As you begin your journey as a new school board member, join us for a series of livestream conversations. Learn about IASB's Roadmap to Success, developed to guide your first year with information on the New Board Member Training Bundle, Waypoint Webinars for new members, and learning opportunities from IASB. No registration is required. Just go to www.iasb.com/livestream/. Starts at 6:30 pm.

Details

IASB Welcomes You to the Board! 04/16/2021

As you begin your journey as a new school board member, join us for a series of livestream conversations. Learn about IASB's Roadmap to Success, developed to guide your first year with information on the New Board Member Training Bundle, Waypoint Webinars for new members, and learning opportunities from IASB. No registration is required. Just go to www.iasb.com/livestream/. Starts at noon.

Details
View All Events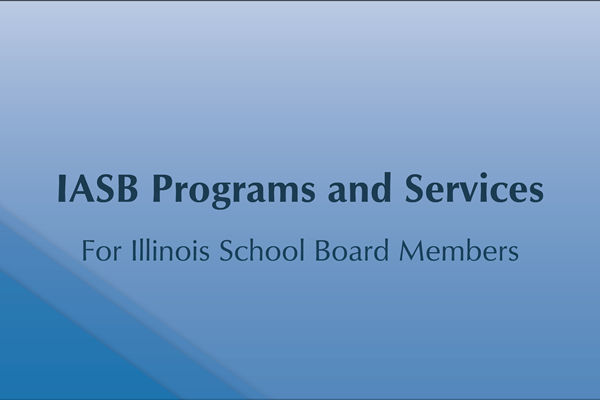 Showcase of IASB Programs and Service
Learn more about some of the IASB services and training resources provided to member school boards. View short, informational videos of the various programs offered to boards of education, including the Association's board policy services, in-district workshops, and other training opportunities available exclusively to IASB members.

New Board Member Resources
A number of resources to help newly seated school board members carry out their duties and develop their leadership skills are available. IASB's new board member Roadmap to Success offers state required trainings, a series of webinars specifically for new board members, and additional tools to assist board members with gaining the knowledge and skills to become an effective school leader.

View Resources
Journal Offers the New, Next Normal in Facilities
The latest Illinois School Board Journal highlights the adaptations that school districts are making to keep students, staff, and communities safe. Discover the next, new normal for school facilities and the importance of long-term planning.

Read More
Lighting the Way to Excellence in School Governance
100+

Years of Service

IASB is here to assist boards of education with training, policy, resources, and programing all supporting quality public education.

848

Member Districts

More than 99 percent of public school boards in Illinois hold active membership.

5,900+

Elected Officials

School board members volunteer their time to ensure growth and progress not only for students, but for entire communities.

21

Divisions

IASB field services directors serve as a direct link between the school boards and Association services.

1,000+

Newly-Elected Board Members

IASB provides training and resources on the roles and responsibilities of the board and board members.