INTERESTED IN SCHOOL BOARD SERVICE?
School Board Elections
Get equipped with key dates, qualifications, and helpful information to campaign for your local school board
LEARN AT YOUR CONVENIENCE
Online Learning
Stay current on policy and legal issues and upgrade your knowledge of current education topics
#ILvirtualsummit
Virtual Summit 2020
Virtual Summit recordings available to registrants through December 20
PRESS and PRESS Plus Issue 106: Housekeeping Before the Legislature Decides to Reconvene 12/03/2020

Join IASB's PRESS Editors on December 3, 2020 for response to the Education Omnibus Act, changes based on ISBE rules updates and guidance, and five-year reviews. Then stay tuned for a review of customized PRESS Plus Issue 106.

Details

How to Navigate Running for School Board, Part 2: Filing Petitions & Public Policy Questions 12/08/2020

Join a conversation about preparations for candidates and districts for the April 6, 2021 Consolidated Election with IASB staff and Scott Uhler from Klein, Thorpe & Jenkins, Ltd. Discuss petition circulation; how, when, and what to file; navigating public policy questions; and more , plus what you can do before the election to learn more about the work of the board.

Details

Leave Me Alone? Combating Employee Abuse of Leave Benefits 12/10/2020

Considering the tangled web surrounding employee use of traditional leave time, school attorneys James Petrungaro and Adam Dauksas from Himes Petrarca & Fester CHTD will examine employee leave abuse and options available to boards and administrators for formulating a response.

Details
View All Events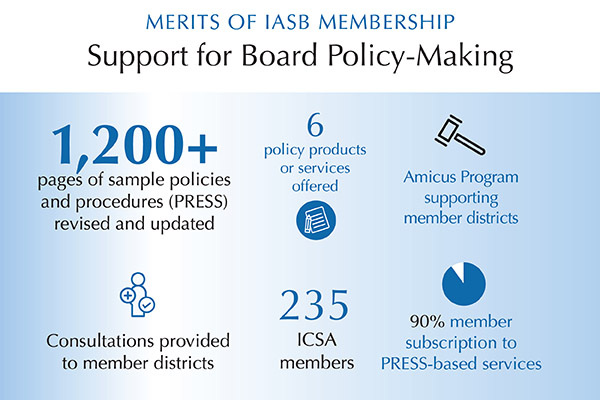 Merits of IASB Membership
IASB supports member boards in pursuit of excellence in local school board governance and based upon the Foundational Principles of Effective Governance. Learn more about resources and services provided to member school boards.

COVID-19 Guidance and Resources
During this unprecedented national health emergency, school districts face a myriad of issues in terms of dealing with school governance and operations. IASB has compiled guidance to assist boards of education as they prepare to confront the challenges of the 2020-2021 school year. Local boards of education are encouraged to use these resources to spur conversation on the critical issues involving governance, policies, programming, personnel, health and safety of the school community, and the fiduciary responsibility of the board of education.

Guidance and Resources
Journal Explores School Safety
The November/December 2020 issue of the Illinois School Board Journal covers the critical convergence of student well-being, school safety and security, and social and emotional learning. This vital interplay is among the lessons for communities as social unrest and coronavirus pandemic are added to the mix of school safety and security issues.

Read More
Lighting the Way to Excellence in School Governance
100+

Years of Service

IASB is here to assist boards of education with training, policy, resources, and programing all supporting quality public education.

848

Member Districts

More than 99 percent of public school boards in Illinois hold active membership.

5,900+

Elected Officials

School board members volunteer their time to ensure growth and progress not only for students, but for entire communities.

21

Divisions

IASB field services directors serve as a direct link between the school boards and Association services.

1,000+

Newly-Elected Board Members

IASB provides training and resources on the roles and responsibilities of the board and board members.