Joint Annual Conference
November 18-20, 2022
Register
2021 General Session Speakers
Three keynote speakers will Educate, Inspire, and Lead attendees at the 2021 Joint Annual Conference in Chicago. Headlining a General Session each day of Conference, the keynoters will offer messages of inspiration and perseverance for school leaders while leading conversations on timely, meaningful issues impacting public education today.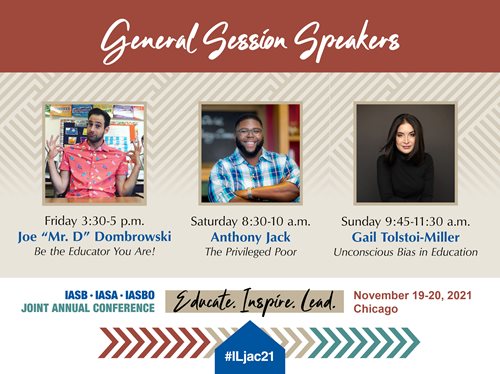 Joe "Mr. D" Dombrowski
First General Session
Friday, November 19, 3:30 p.m.
"Be the Educator You Are!"

In 2017, Joe "Mr.D" Dombrowski went viral with a spelling test prank on his students. Since being launched in the spotlight, he has become an international public speaker, stand-up comedian and social media star, all while being a full-time, if unconventional, classroom teacher. His comedic timing and improv studies have translated into the classroom and his approach to teaching with humor lends itself to make material relatable and less intimidating. Dombrowski, who teaches fifth grade in Seattle, enjoys working with crowds of all walks of life, helping them reconnect to the joy of life through laughter.
---

Anthony Jack
Second General Session
Saturday, November 20, 8:30 a.m.
"The Privileged Poor"
Author, sociologist, and educator Anthony Jack is transforming the way organizations address diversity and inclusion in education and relating how we can ask the right questions and bridge the gaps. His book,
The Privileged Poor: How Elite Colleges are Failing Disadvantaged Students
, discusses cultural capital and reframes the conversation surrounding poverty and higher education. "No matter how much a student knows about Chopin and Beethoven, at the end of the month, they're still hungry." Jack is a junior fellow at the Harvard Society of Fellows and assistant professor of Education at the Harvard Graduate School of Education.
---

Gail Tolstoi-Miller
Third General Session
Sunday, November 21, 9:45 a.m.
"Unconscious Bias in Education"
Gail Tolstoi-Miller is an award-winning speaker, author, career coach, and business strategist. With vast experience and unique approach, she cuts to the heart of today's issues to inspire, motivate, and empower while being "100%, totally real." Tolstoi-Miller has over 20 years of leadership and coaching experience in productivity, change management, leadership development, innovation, unconscious bias, and diversity and inclusion. Her acclaimed TEDx Talk on "Unconscious Bias in the Workplace" sparked the "So What? Revolution," covering awareness of unconscious bias, snap judgments, and focusing on what matters – and which is adapted for the education community.