What is an educational mandate?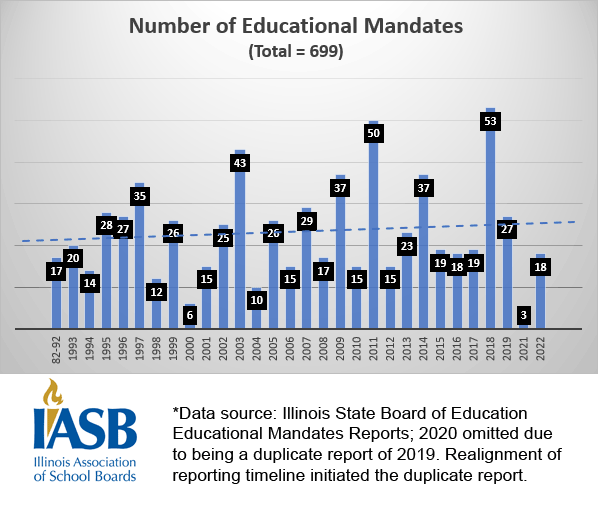 How many educational mandates are enough?
Pursuant to
105 ILCS 5/2-3.104
, the State Board of Education must submit to the General Assembly each year a report listing all state mandates applicable to the common schools during the school year covered by the report, excluding only those mandates that relate to school elections. With the initial report covering 1982-1992, over the past 40 years,
699 educational mandates
have been legislated. This gives an average of 17 new mandates each year, with the trend of enacting new educational mandates is continually on the rise. The 2023 Spring legislative session imposes 23 additional educational mandates alone.
How do mandates impact districts?
Each legislative session school districts are faced with additional unfunded mandates that impact finances, personnel, operations, curriculum, reporting, space limitations, and their communities. With local voter choice being of the utmost importance to school boards and the upward trend continuing for mandates, the crushing weight of mandates has become too much for school districts to bear. The additional workload for administrators, teachers, and support staff is a contributing factor to the increasing staff shortages.
What do school leaders have to say?
"As a school board member, I am deeply concerned about the adverse effects of the multitude of state mandates, which not only burden school districts in terms of resources and personnel, but also place a heavy strain on taxpayers. These mandates often require additional funding, resulting in increased taxes and financial hardships for our community members. It is essential for policy makers to consider the financial implications on taxpayers and respect the fundamental rights of parents as they formulate and implement education policies, ensuring a more equitable and inclusive educational system for all." — President of an Illinois school board
"With all the mandates from the state, changes in curriculum, and pressure from the governor's office, the idea of being an educator is not what many are looking for. More and more people are looking to get out of this field." — Southwestern Illinois Superintendent (Source: IARSS 2021 Illinois Educator Shortage Study)
"Negative forces have been mounting over the past couple of decades that keep prospective leaders from considering school leadership as a career path, push individuals out of positions, or cause some to leave the profession altogether. These forces include mounting mandates." — Illinois Principals Association
IASB Position Statements on Educational Mandates
IASB Position Statement 6.02
The Illinois Association of School Boards shall support legislation for the creation of a Committee on Mandate Review. IASB shall support at the state and national level, periodic review of all mandates, rules, and regulations affecting local districts. Such mandates, rules and regulations should be broad in scope providing great flexibility in implementation, eased, or reduced during periods when state supporting funds are unavailable or reduced, and eliminated if not of benefit to educational opportunities and outcomes. All mandates shall be subject to a sunset provision. (Adopted 1981; Amended 1988, 2022; Reaffirmed 1985)
IASB Position Statement 6.18
The Illinois Association of School Boards shall support modifications to the Illinois State Mandates Act (30 ILCS 805) that will strengthen the ability of the Illinois State Board of Education (ISBE) to accurately and sufficiently provide timely information on the costs of mandates including input from local elected boards of education. In addition, the mandates report required for other local governments shall be required of ISBE to provide timely, updated information on the impact of new mandates as they are enacted. (Adopted 2013; Reaffirmed 2014)
View all IASB Position Statements