2023 Conference Overview:
Leading and Learning Together
November 17-19, 2023
"One of the most important characteristics for leaders is the willingness to learn and grow in their own professional development," said 2022-2023 IASB President Simon Kampwerth, Jr., in his Friday General Session welcome. "This Conference provides us with that opportunity, year after year."

The theme for #ILjac23 – Lead Together. Learn Together. – underscores the value of continuous learning among peers and stakeholders. School board members and district staff come together each year to share success stories, discuss challenges, and discover solutions to help improve educational outcomes. This year's event welcomed more student voices to the mix.




Hosted by the Illinois Association of School Boards, Illinois Association of School Administrators, and Illinois Association of School Business Officials, the IASB/IASA/IASBO Joint Annual Conference is recognized as one of the nation's largest state education conferences and a premier training event for Illinois school board members, administrators, and business officials.

The 2023 Conference marked the 90th year IASB has hosted the event. Members from the three statewide organizations participating represented more than 698 Illinois public school districts. Overall attendance*, including exhibiting vendors and guests, topped 8,900. Of the approximately 5,169 registrations,23% were attending the Conference for the first time.




Attendees found a variety of offerings to fit their learning styles and needs:
Dozens of concurrent one-hour Panel Sessions on Friday, Saturday, and Sunday presented content to all attendees covering crisis management; current events; educational equity; finance and funding; governance, leadership, and accountability; governmental relations; rural district issues; school law; social emotional learning; and student learning and achievement.
Popular Panel Sessions were: Setting District Goals/Strategic Planning; Creating Trauma-Responsive School Communities; ABCs of School Finance: Abatements, Bonds, and Communities; 1-2-3 Team! Labor Negotiations Through a Team Approach; Illinois Literacy Plan; Community Engagement Techniques and Tactics for School Boards; Amplifying Student Voice with a Seat at the Board Table; and Here a Mandate, There a Mandate, Everywhere a Mandate.

Friday Focus Workshops offered in-depth training and education to 1,379 school board members about their role and responsibility. Learning opportunities were available for more than 250 district staff who perform the duties of school board secretary or administrative assistant. Additional sessions and seminars for business officials, administrators, and school attorneys were held in conjunction with the Conference.

A full-day Equity Immersion, now in its second year, offered a dedicated time and space to empower school leaders to advance equity initiatives in their districts. The event brought approximately 150 school leaders to the city on Thursday to kickoff learning and leadership.

New this year were two Spotlight Sessions that featured presentations on topics appealing to the ideals of the educational leadership community.

On the main stage, keynote speakers during General Sessions on Friday, Saturday, and Sunday offered messages to inspire and motivate school leaders. Awards recognized impactful educational environments, and leaders in the roles of administrative professional, business official, superintendent, and school board member.
It is the dedicated learning and collective sharing of ideas and experiences that make the Joint Annual Conference a rewarding experience for many of the attendees. This year,
35 IASB member districts presented Share the Success Panels
. Presenting school districts share programs and processes that have proven successful in their districts, allowing attendees to gain insight and information from their peers that may be helpful for their own schools. Other panelists included school officials, state education agency representatives, legislators, school attorneys, and experts from various school service organizations.
For school leaders who are making decisions on behalf of students every day, recognizing the importance of including student voices was evident. IASB welcomed over 30 student board members and representatives to their boards for a workshop about building school culture and good governance. Student participants and entertainers were celebrated during the Friday General Session.
A Conference staple now for 73 years, this year's sold-out Exhibit Trade Show floor included 229 exhibiting companies showcasing innovative products and services for public schools. There were giveaways and prize drawings, and attendees were encouraged to play IASB Service Associates Bingo.
Many attendees also made stops in the IASB Info Center to pick up resources, learn more about services available to their districts, or recharge devices before continuing to their next session. A Conference event app provided a digital platform for attendees to engage in Community Board posts, share photos, and capture session notes and handouts. Over 3,900 attendees downloaded the app.
For IASB, the weekend activities included the annual
IASB Delegate Assembly
for members to consider legislative priorities of the Association and elect officers. Delegate representatives from 417 member school boards considered resolutions proposed by member boards and recommendations by the Resolutions Committee. The Delegates elected Mark Harms (Flanagan-Cornell USD 74) as president and Tracie Sayre (Triopia CUSD 27) as vice president.
---
2024 Conference Dates:
IASB/IASA/IASBO Joint Annual Conference — November 22-24, Chicago
Call for Proposals — Posted December 1, 2023, and due March 1, 2024
---
*Participation numbers based on preliminary data as of November 19, 2023. Total attendance includes school board members, administrators, superintendents, attorneys, regional superintendents, ISBE board members, IASB Service Associates members, exhibitors, secretaries, township treasurers, special education district representatives, university personnel, and guests of registrants.
Photos by Michael Hudson Photography.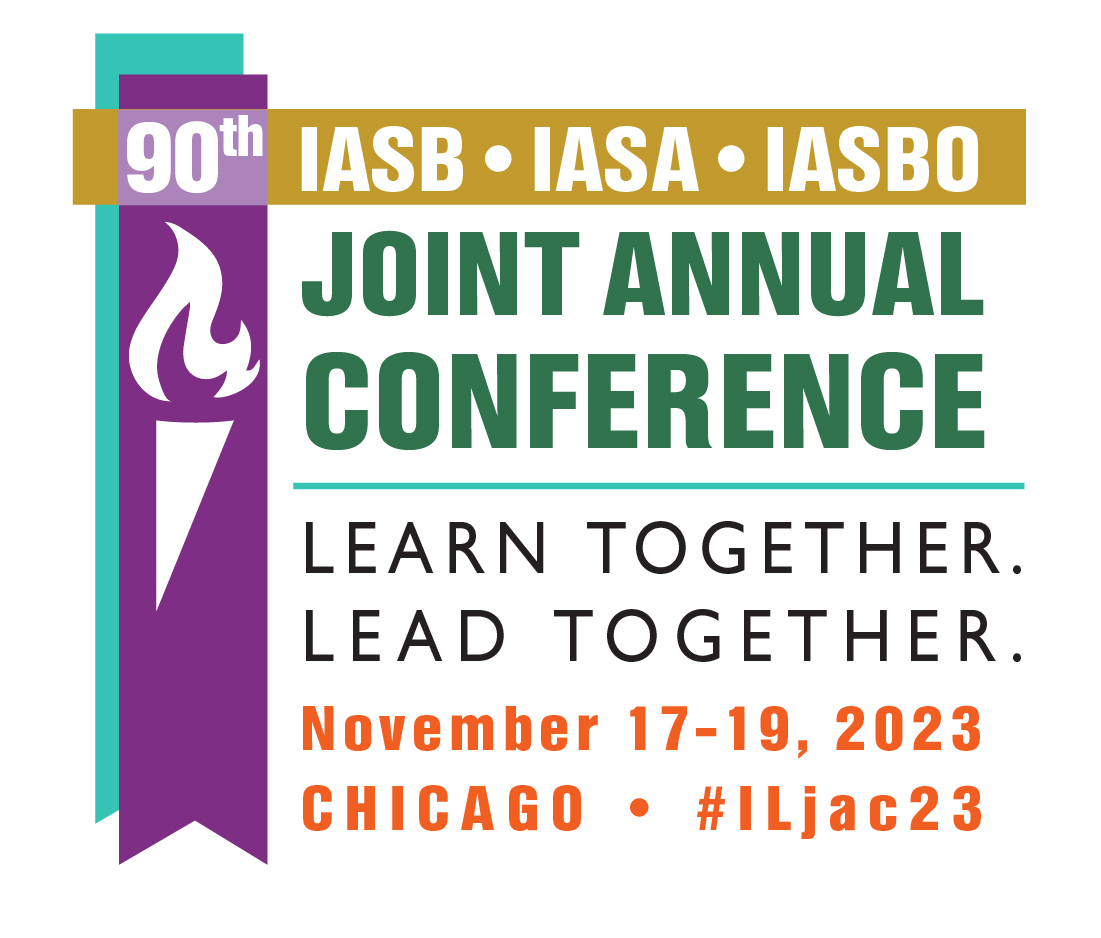 Conference Highlights