First General Session Takes the Annual Conference to the 'Next Level'
Attendees at the 2022 Joint Annual Conference danced their way through the First General Session on Friday afternoon with the motivating and inspiring words of Poetic Voice Sekou Andrews.
The Joint Annual Conference of the Illinois Association of School Boards, Illinois Association of School Administrators, and Illinois Association of School Business Officials was in Chicago November 18-20. Attendees were treated to two full days of panel sessions, the Administrative Professionals' Program, The Equity Immersion, nine Pre-Conference workshops, a sold-out Exhibitor Hall, and meetings from all three sponsoring organizations.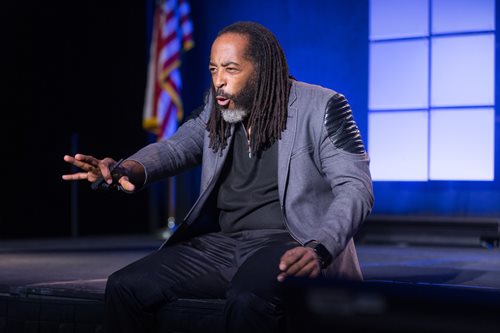 The first day of Conference was brought to an energizing and fitting end by Sekou Andrews, who had the crowd of school leaders on its feet with a magnetic delivery of the afternoon's keynote. Speaking about growth, the former teacher and self-proclaimed "soldier of the go-getter drive" asked the audience to question "humanity's obsession of taking things to the next level."
"How do we define the next level? It can't always be about getting bigger," said Andrews. "Maybe it's a place we get back to. The next level is telling our stories. The next level is a team, a community."
"Story telling creates the opportunity for you to find yourself in others and for others to find themselves in you. Storytelling fosters empathy and trust because you find the common experience in your purpose. Bonded by purpose," continued Andrews. "Our symphony is stronger than our solo. The greatest resource each of you have is each of you."
Two awards were presented during the Conference kickoff session. The Binotti Award for Risk Management was presented by Dave Woodard of The Sandner Group to Jim Drombrowski, facilities director for Burnham Elementary School District 154.5. Woodard acknowledged Drombrowski for his dedication to school safety and finding new and innovative ways to maintain a safe school district.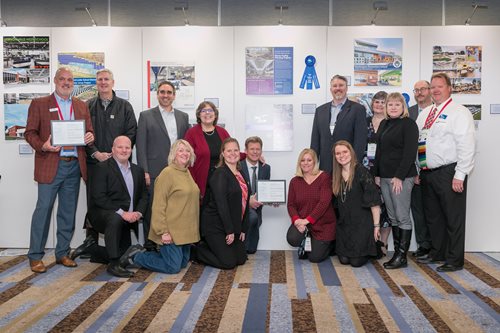 Also announced at the First General Session were the winners of awards in the annual Exhibition of Educational Environments, sponsored by the IASB Service Associates. All 17 entries of the school design competition were displayed in the main Conference concourse. 
In the Opening Session of the Administrative Professionals' Program, the 2022 Holly Jack Outstanding Service Award was presented to  Juli Gniadek, assistant to the superintendent and secretary for the Community High School District 99 (Downers Grove) Board of Education. The award is presented based on the criteria of performance, initiative, innovation, staff development, self-improvement, passion for public education, and dedication to the district and community.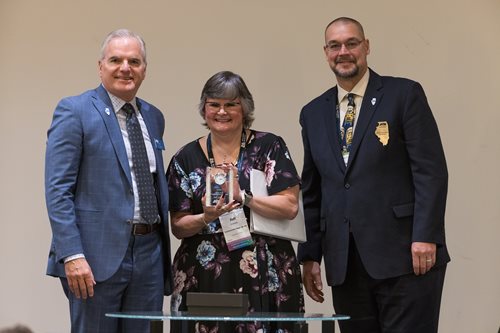 "Working in District 99 is a privilege," Gniadek said when accepting the award. "This is not work, it's a calling. It's not a job, it's an adventure."