Highlights from the 2023 COSSBA Federal Advocacy Conference
Date Posted

October 12, 2023

Category

Legislative Update
The 2023 Consortium of State School Board Associations (COSSBA) Federal Advocacy Conference was a great success with board of education members participating from 21 states. Those attending from Illinois included 15 school board members and seven administrators. The group attended a day of informational sessions on a wide variety of national education issues, and then had a long and productive day lobbying on Capitol Hill.
The Federal Advocacy Conference kicked off the evening of September 25 with an opening reception. On September 26, conference attendees heard from

Lauren Mendoza, Deputy Assistant Secretary of Education. She discussed that the Department of Education is working on items similar to what Illinois school districts are dealing with, including teacher shortages, health of students, pathways to college and careers, and bilingual education. Other speakers included COSSBA officials and key partners, a Congressional staff panel and Representative Aaron Bean of Florida, as well as speakers who provided tips to members on what to say and how to advocate for school districts during the Capitol Hill visits.
On September 27, conference attendees visited congressional offices on Capitol Hill. Illinois attendees met with staffs from both Senator Dick Durbin and Senator Tammy Duckworth's offices. In addition, they met with U.S. Representatives Jonathan Jackson, Jesus "Chuy" Garcia, Bill Foster, and Bradley Schneider, as well as staff from the offices of Representatives Darin LaHood, Mike Quigley, Robin Kelly, Nikki Budzinski, and Eric Sorensen.
Federal Advocacy Conference attendees focused this year on educating their members of the Illinois Congressional Delegation on three topics: Increased funding for K-12 education; child nutrition programs; and broadband, connectivity, and cybersecurity. Under K-12 funding, several school board members requested that their Representatives add their names as co-sponsors for the bipartisan IDEA Full Funding Act. Two that were not originally listed agreed to co-sponsor the legislation, showcasing how member advocacy on Capitol Hill can make a difference. Members of the Illinois Delegation and/or their staffs listened intently to the discussions and voiced appreciation for the meetings.
Attending from Illinois
Denise Jones (Evergreen Park ESD 124)
Brandie Jackson-Williams (CCSD 168 Sauk Village)
Serena Durr-Jones (CCSD 168 Sauk Village)
Jeffery Burns (CCSD 168 Sauk Village)
Pam Jackson (Homewood-Flossmoor CHSD 233)
Jessica Jaramillo-Flores (J. Sterling Morton HSD 201)
Kristin Fitzgerald (Naperville CUSD 203)
Shawn Killackey (Fremont SD 79)
Melissa Itkin (North Shore SD 112)
Lisa Hirsh (North Shore SD 112)
Amy Reynolds (Rochester CUSD 3A)
John Smith (Meridian CUSD 223)
Joe Mullikin (Meridian CUSD 223)
PJ Caposey (Meridian CUSD 223)
Pamella Bess-Tabb (Galesburg CUSD 205)
Simon Kampwerth Jr. (IASB President)
Mark Harms (IASB Vice President)
Thomas Neeley (IASB Immediate Past President)
Kimberly Small, J.D. (IASB Executive Director)
Jeremy D. Duffy, J.D. (IASB Deputy Executive Director)
Mary Ellen Buch (IASB Governmental Relations Director)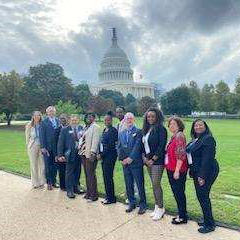 Participants from Illinois at the 2023 COSSBA Federal Advocacy event.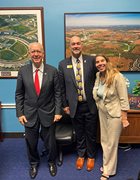 Rep. Bill Foster, IASB President Simon Kampwerth, and Naperville Board Member Kristin Fitzgerald.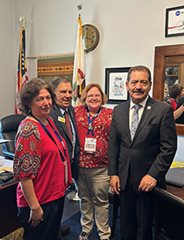 Illinois' Jessica Jaramillo-Flores, Tom Neeley, and Amy Reynolds met with Rep. Chuy Garcia.
Illinois participants at the 2023 COSSBA Federal Advocacy event.