First Multi-Division Regional Event Held in Peoria  
Date Posted

March 28, 2023

Category

News
School board members and administrators participated in a day of interactive learning and networking on March 25 in Peoria.
In the morning keynote, "Make Right, Act Right, and Do Right by all Students in Illinois," Sheila Caldwell, Ed.D. shared strategies to create and sustain inclusive and equitable models in K-12 education.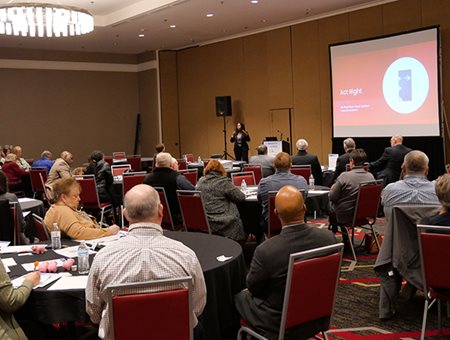 Caldwell is Vice President of Antiracism, Diversity, Equity and Inclusion, and Chief Diversity Officer for Southern Illinois University System in Springfield. She works across campuses to strengthen equity and ensure a level playing field for all students, staff, and faculty.
She shared educational attainment and enrollment trends by race/ethnicity for Illinois public universities. Data comparing enrollment to funding levels of public schools showed that nearly 50% of full-time first-year students from Illinois public high schools are from the least funded school districts (Tier 1).
Caldwell encouraged school leaders to mine data in their district and state to see who is advancing and who is left behind.
"Build a foundation that other people can build from," suggested Caldwell. Also, when building equitable policies, consider if the institutional and systematic barriers that limit access, retention, persistence, and completion are acknowledged.
Following the keynote, morning and afternoon break-out sessions presented additional topics of interest to school boards and engaged participants through interactive Q&A and group activities.
School attorney Brandon K. Wright of Miller, Tracy, Braun, Funk & Miller, Ltd. addressed major school law issues evolving in 2023 and shared recent court cases and how decisions impact local school districts.

Brad Ware, Community Outreach Specialist from the FBI Field Office in Springfield, shared resources that can help school districts and communities to be safer places to live.
Maryam Brotine and Debra Jacobson from the IASB Office of General Counsel provided a refresher on the basics of the Open Meetings Act, allowing time for attendees to share local perspectives on challenges and concerns regarding OMA.

Marlon Burton, CEO and founder of United Horizons LLC, led group learning experiences on navigating tough conversations surrounding diversity, equity, and inclusion.
Networking breaks between sessions and over lunch provided an opportunity for attendees to interact with sponsoring vendors, presenters, and IASB staff while making connections with fellow school board members.
The event was sponsored by Kings Financial Consulting, Cunningham Recreation, Schneider Electric, and Trajectory Energy Partners.