IASB Board of Directors Meets
Date Posted

June 16, 2023

Category

News
The Illinois Association of School Boards welcomed new Directors to its governing board and prepared for transitions as IASB sets to close its fiscal year at the end of the month.
The June 10 Board of Directors meeting in Springfield was the first for new Directors Kimberly Keniley-Ashbrook (Heritage CUSD 8), representing the Illini Division, and Jeff Johnson (Kewanee CUSD 229), representing the Blackhawk Division. An orientation session was held before the board meeting.
President Simon Kampwerth, along with the board and staff, acknowledged the passing of former Blackhawk Division Director Dave Rockwell, who died in March.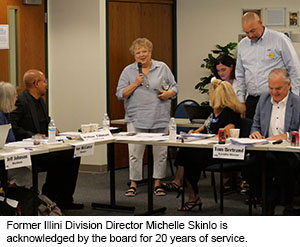 The Board of Directors also offered gratitude to Michelle Skinlo, former Illini Division Director, for her contributions to IASB and time at Mattoon CUSD 3. "Michelle has been a rock for this board," said Kampwerth of Skinlo's 20 years of service. "She has been a person that has mentored and brought great involvement, communication, and insight to everything she has done on this board."
The board also acknowledged IASB administrative staff retirements and transitions that will take effect when the new fiscal year begins on July 1. It was the last quarterly board meeting for Executive Director Tom Bertrand and Associate Executive Director Dean Langdon, who are retiring from IASB at the end of the month.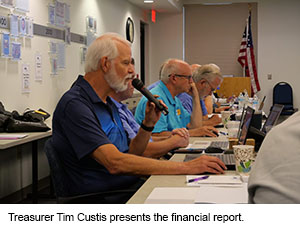 Business included a financial report for the current fiscal year 2022-2023 (ending June 30, 2023) and a presentation and approval of the budget proposal for the new fiscal year 2023-2024 (beginning July 1, 2023). While the Association budgeted for a deficit, factors including member retention, Joint Annual Conference participation, and investment earnings resulted in a positive year financially for IASB. For the new fiscal year, the Association is preparing for ongoing increases in expenses leading to a budget deficit based on conservative estimates of anticipated revenue.
In his final meeting before the board, Executive Director Tom Bertrand presented a year-end update on the
IASB Strategic Priorities 2022-2024
. Bertrand highlighted member retention, high participation satisfaction with online courses and webinars, members reporting that they feel supported through the programs and services available through IASB, and notable member communications and delivery. He also highlighted progress with internal human resources to align with the Association's Equity, Diversity, and Inclusion Plan.
The next quarterly meeting of the IASB Board of Directors is scheduled for August 25-26 in Chicago. IASB members can
access approved minutes
from previous meetings on the IASB website.