Meet the Keynote Speakers for JAC 2023
Date Posted

August 25, 2023

Category

Conference
The speakers have been announced for the General Sessions of the 2023 Joint Annual Conference, November 17-19 in Chicago.

Headlining the First General Session on Friday, November 17 will be Tererai Trent, Ph.D. Trent is an internationally renowned voice for quality education and women's empowerment. Known as Oprah Winfrey's "all-time favorite guest," Tererai Trent founded the Tinogona Foundation, a non-profit organization that works to build, repair, and renovate schools in rural Zimbabwe. Utilizing her global platform, Trent works tirelessly on behalf of children without an access to education and encourages everyone "to fight not only for their own dreams, but also the dreams of others."
The Second General Session speaker on Saturday morning, November 18, will be Bill de la Cruz. As a past school board member and board president, and the former Director of Equity and Inclusion for Denver Public Schools, de la Cruz uses his vast experience as a mediator and workshop leader to guide individuals and groups through the process of personal transformation. Author of Finding the Origination Point, Understanding Our Biases to C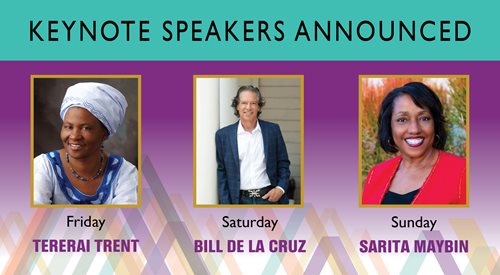 reate a More Peaceful World, de la Cruz helps to support people working through blame, shame, and judgement via an acceptance of our shared humanity.
The 2023 Conference will conclude with the Third General Session on Sunday, November 19, headlined by Sarita Maybin. Raised in a military family constantly on the move, Maybin has mastered the art of making fast friends and managing stressful situations. As a former university dean and now a professional speaker, Maybin knows how to motivate others to embrace positivity. Using real stories, real solutions, and her relatable presence, Sarita Maybin breaks down barriers to reveal how to work together better and transform uncomfortable conversations into constructive communication.
The IASB/IASA/IASBO Joint Annual Conference is the premier training event for school board members, administrators, and business officials in Illinois and is held annually in November in Chicago. Online registration remains open for the 2023 event. Questions can be directed to Natalie Duke, (217) 528-9688 or (630) 629-3776, ext. 1115.
Check the Conference webpage for updates or follow along on social media channels using #ILjac23.