IASB Board Meeting Notes – August 2023
Date Posted

August 30, 2023

Category

News
IASB welcomed new director Jianan Shi to its board, representing Chicago Public Schools SD 299, at the August 26 quarterly meeting in Chicago. Shi is president of the Chicago Board of Education, a member of the Illinois Association of School Boards.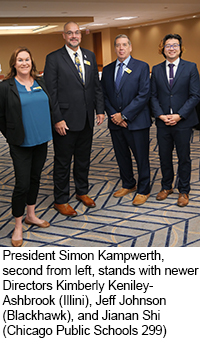 The IASB Board of Directors consists of the two elective offices of President and Vice President, the Immediate Past President, directors from a member school board from each of the Association's 21 regional divisions, a representative from the Chicago Board of Education when Chicago Public Schools is an active member, and a representative of the IASB Service Associates.
Directors review reports and monitor the Association's operations and programming to support member school boards. The August meeting was the board's first meeting of the new fiscal year. Business included review and approval of the year's strategic plan presented by Kimberly Small in her first board meeting as IASB Executive Director.
Board learning included an update on the Resolutions Committee meeting held on August 4 and the new virtual component used this year for district testimonies. The Committee's recommendations for presentation and adoption will be reported to membership in a Resolutions Committee Report.
Directors also heard updates from IASB staff and directors about the budget, the upcoming Division Meetings and Joint Annual Conference, Sponsored Programs, Governmental Relations, Service Associates activities, the Consortium of State School Boards Association (COSSBA), and Illinois High School Association (IHSA).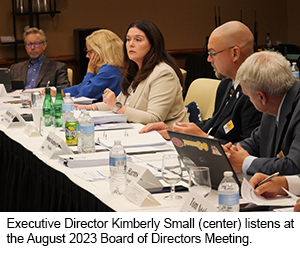 In addition to the business meeting, directors discussed the board mentorship program with newer board members. Other board activities included an annual self-evaluation.
The Board of Directors will meet again in November in conjunction with the Joint Annual Conference. November 16 is the next quarterly business meeting. The board will also meet on November 19 for a reorganization.