Titles for New Board Members Are on Sale 
Date Posted

April 3, 2023
For new school board members, there is a lot to learn: meetings, working with the superintendent, learning the work of the board, and mandated training. IASB publications can help navigate the learning curve.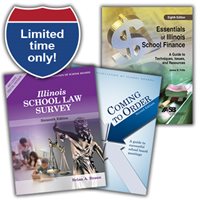 For a limited time, IASB is offering special pricing on a New Board Member Book Package that offers three top-selling titles:
Coming to Order by the staff of IASB explains how to plan and conduct meetings that meet the needs of the individual school board and takes the board meeting beyond compliance with legal requirements to meetings that serve the interests of both the school and community. The newly released Third Edition includes information on electronic communication, public participation at board meetings, and orienting new members.

Illinois School Law Survey by Brian A. Braun is a guide for answering school legal questions. The Survey presents answers to more than 1,600 questions in 27 chapters, along with a list of statutes, rules, and court cases on which each answer is based. A digital version is included with the purchase of the print book.
Essentials of Illinois School Finance by James B. Fritts is an effective reference for understanding school finance. From the peculiarities of property taxes and state funding to the formulas for projecting enrollments and staff budgets, this book covers just about everything and is considered the school finance primer for newly elected school board members.
This three-book package is available to IASB members from the Online Bookstore at the discounted price of $75 for all three books (otherwise $105 member pricing if purchased separately). Shipping charges will also apply. This limited-time offer is available from April 1 through the end of July 2023.
Log in to your IASB member account to view and purchase. Newly elected or appointed individuals who do not yet have an IASB account can ask their district office to place the order. For assistance with ordering online or to order by phone, call the IASB office during normal business hours.