New Board Member Welcome Packets
Date Posted

April 18, 2023

Category

New Board Members
Congratulations to all new board members elected to their boards of education on April 4. Welcome to the community of Illinois public school boards, which includes around 6,000 individual board members.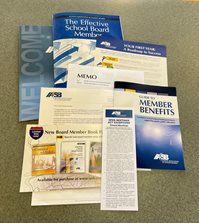 As a member of IASB, you are entitled to resources to help you navigate your board responsibilities. After your district roster manager adds you to the IASB database as a board member, watch your mailbox. You will soon receive a packet of information to help introduce you to your new role as a board member.
Your New Board Member Welcome Packet includes information on IASB programs and resources and a New Board Member Roadmap to Success – a recommended learning path to guide new members through the first year of service. The Packet will also include contact information for your district's Field Services Director, who is your contact for assistance in accessing Association resources and is available to provide in-district professional development.
More information for new board members is available on the
New Board Member webpage
.