In Memoriam: Former IASB President Joan W. Levy 
Date Posted

November 8, 2022
Joan W. Levy, a former president of the Illinois Association of School Boards, died November 5, 2022. She was 93.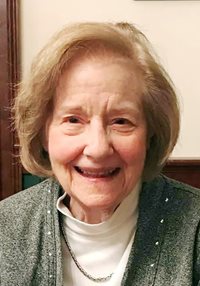 Levy served on the IASB Board of Directors for 14 years and was elected president in 1984 and 1985. During her time in leadership, the Association advanced services to its members and adopted position statements relating to student retention and funding preschool programs. Her leadership roles included local, state, and national committees and organizations addressing school inequity, the role of government in school governance, and property tax reform.

"The IASB family has lost a past leader, officer, and president," said current IASB President Simon Kampwerth Jr. "We were honored to have Joan as a part of our Association, and we continue her passion for public education and the students of Illinois.  Our thoughts and prayers are with Joan's family."

Levy was a member and president of the board of education at Winnetka SD 36 from 1971 to 1977 and at New Trier THSD 203 from 1977 to 1993, serving a total of 20 years in the two North Cook districts. A memorial tribute states, "With five children headed for the Winnetka schools, Joan assumed what became a visible role supporting public education. In the process she became a lay expert on the inequities inherent in Illinois school aid formulas and property assessment systems."

In the 2013 publication commemorating the Association's centennial, Levy said "You will find school board membership one of the most rewarding experiences of your volunteer life."

After her board service, Levy maintained her presence in education with Hazard, Young and Attea, an administrator search firm. She also taught duplicate bridge, including at New Trier's Adult Education Program.

"Joan was an amazing lady and contributor to advancing public education," said Jonathan T. Howe, who preceded Levy as IASB president. "She asked the right questions before making decisions. It was a pleasure to have had the opportunity to work with her over the years."

Levy grew up in Oak Park and attended Oak Park River Forest High School, the University of Michigan, and Columbia University. She was the "beloved wife and favorite bridge partner" of Arnold "Arnie" Levy for 64 years until his passing in 2016. Joan and Arnie Levy are survived by five children, nine grandchildren, and two great-grandchildren.

Services for Joan Levy were held on November 8, 2022. Condolences may be conveyed via Shalom Memorial Funeral Home and memorial donations may be made to the Chicago Symphony Orchestra.