Story of Personal Transformation Closes Out 2022 Joint Annual Conference
With school leaders preparing to head back to their districts at the close of the 2022 Joint Annual Conference, Chef Jeff Henderson delivered a power story of his own personal transformation and the importance of education to the Third General Session crowd.
Henderson began his culinary career in the unlikeliest of places: prison. After serving nearly 10 years on federal charges, Henderson was released and became executive chef at the Bellagio and Caesars Palace. He is an award-winning chef, bestselling author, entrepreneur, and television personality whose story has been featured in the national media.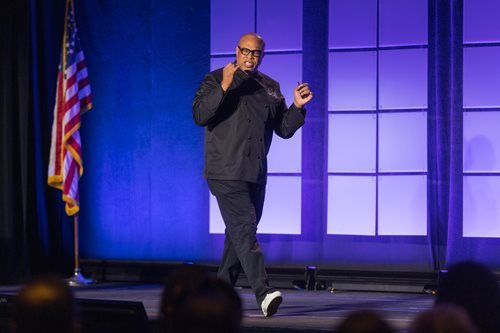 In a point of reflection, Henderson asked those in attendance to remove themselves from their lifestyles and put themselves in the mindset of a child living in poverty.
"The power of education comes from success. When you don't see education work, you don't believe in it," Henderson emphasized. "Let's not focus on where they're failing; focus on where they're excelling. Put the investment behind where children excel, not where they suck."
Henderson highlighted the importance of modeling behaviors to ensure children don't slip into the wrong type of culture. "It's important that school leaders that have lived experiences be the communicators," said Henderson. "My job was to take my lived experience and model behaviors back to communities to help the kids out," Henderson acknowledged when speaking about his past.
Chef Henderson left 2022 Conference attendees with words to remember, "Those closest to the problem are closest to the solution."
Two awards showcasing local governance leadership and superior performance were presented at the final session.
The Illinois Association of School Business Officials named Michael English of Forcast5 Analytics as this year's Ronald E. Everett Distinguished Service Award recipient. The Everett Award recognizes individuals for their diligence, superior performance, and achievements in service to the school business public.
"Just to be associated with Ron Everett, it means a lot to me," English said in his recognition video. "To share this award with my father, I just can't tell you how much that means. I actually think this award points back to his leadership, his involvement, his creativity, and all the things he did for the association. And, all the things he empowered me to do. This is an incredible award to share with my father."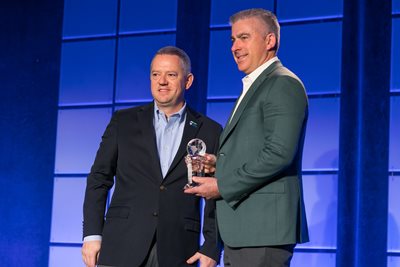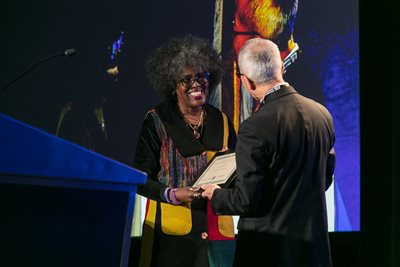 The Illinois State Board of Education presented Evelyn Meeks of Harlem SD 122 with the 2022 Thomas Lay Burroughs Award for Outstanding School Board Member.
Meeks has been a member of the District 122 school board for more than a decade and was the board's first Black member. She currently serves as the leader of the district's Social Justice and Equity Committee.
When nominating Meeks for the award, District 122 school administrator Lisa L. Clark emphasized the transformational changes that have occurred throughout the district since Meeks' appointment to the board of education.
"Mrs. Meeks has been supportive and unwavering in her quest for true equality in our educational system. She speaks her truth in a non-threatening manner, which includes having difficult conversations with peers, community members, parents, and administrators," said Clark. "She embodies and lives by the goals set forth in the Harlem School District."
The Third General Session brought to a close the 89th Joint Annual Conference of the Illinois Association of School Boards, Illinois Association of School Administrators, and Illinois Association of School Business Officials.