Compare and Contrast: How Illinois Stacks Up
Compare and Contrast: How Illinois Stacks Up
By Theresa Kelly Gegen
What are your opinions on New York vs. Chicago-style pizza? Spring vs. autumn? What do you think of Chagall and O'Keeffe? Hamlet or Macbeth? Lincoln and FDR? Bears, Packers, or maybe even Colts? Mac vs Windows? Wind vs. solar? Blues, country, or hip-hop?

Everyone who grew up writing "compare and contrast" essays will understand the question: How does Illinois compare to other states when it comes to education? A variety of national data agencies and educational entities work on research such as this, and we've compiled and distilled selected reports here.

Illinois is the seventh most populous state and 25th in area. It's home to rural, suburban, and urban areas; fields, homes, and skyscrapers; languages, ethnicities, and cultures. The schools and school districts in Illinois run from tiny to huge, and each has its own identity and traditions. With all that, Illinois has also been called the most typical, or as National Public Radio announced in 2016, the most "perfect" state.

"So, we attempted to quantitatively evaluate the critique — and try to come up with which states actually were the most representative of the average of the entire country, in what we're calling the Perfect State Index. In creating the PSI, we looked at five categories race, education, age, income and religion. The Overall Winner: Illinois"

Leadership commentator John C. Maxwell said, "The only one you should compare yourself to is you. Your mission is to become better today than you were yesterday." But here, we're going to ignore that first part — and do a bit of comparing — in order to get an idea of where we are today and perhaps become better tomorrow for the advancement of K-12 education in Illinois.

Funding
Illinois' Evidence-Based Funding (EBF) formula is in its fifth year of implementation in distributing state funds for education and has the purpose of a more equitable distribution of state dollars to the neediest districts. Prior to 2017, Illinois funding ranked among the least equitable states in funding distribution. Even when Illinois was contributing more total money to high-poverty districts compared to low-poverty districts, and even when the state was providing a higher percentage of its funding to the highest poverty districts, there remained large gaps in local funding due to differences in local ability to generate money for schools. At that time, most school districts operated at 70% of what they needed to educate their students.

Advance Illinois wrote in the summer of 2022, "While we still have a ways to go, five years into implementation, we can celebrate that EBF has successfully begun to close resource equity gaps across Illinois." EBF sets cost factors and uses them to determine the cost of educating the students in a district, setting the Adequacy Target. The formula measures each district's local resources in comparison to the Adequacy Target. Through EBF, the state then distributes additional state funds to assist districts in meeting their Adequacy Targets. A key component of reaching adequacy is local resources, mainly property tax bases, which vary dramatically from district to district across the state or even between neighboring districts.

Using 2020 data from NCES, Illinois school districts receive 54% of their revenues from local sources, 40% from the state, and 6% from federal funds (this is exclusive of funds distributed through federal programs tied to COVID-19 relief programs). Nationally, school districts are 45% locally funded, 47% state-funded, and 8% federally funded. Table 1 compares Illinois revenues and sources with those of neighboring states (Indiana, Kentucky, Iowa, and Wisconsin) and states nearest to Illinois in population (Ohio and Pennsylvania).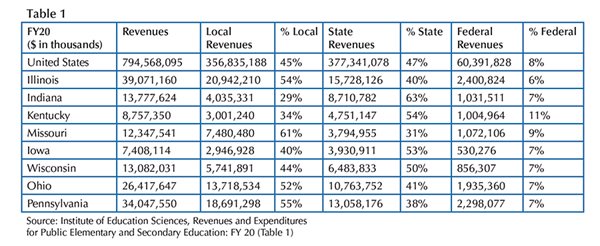 In FY20, the national average for expenditures per pupil for public elementary and secondary education was $13,489 for the 50.5 million public school students in the U.S. Of this, $8,158 (60%) was instructional costs and $4,832 (36%) categorized as support costs. New York, at $25,273, spends the most per student, and Utah, at $8,287, spends the least.

Illinois spent an average of $17,483 educating just under 2 million public school students, which is more per pupil than the national average but the percentages align with the national numbers. Of that, $10,819 (62%) was instructional costs and $6,257 (36%) support costs.

In these calculations, support services include instructional staff support, general administration, school administration, operations and maintenance, student transportation, and other support services. It does not include food services, which is a separate category; in Illinois food service makes up that last 2% of expenditures.

Table 2 compares Illinois expenditures and per-pupil spending with those of neighboring states and states nearest to Illinois in population.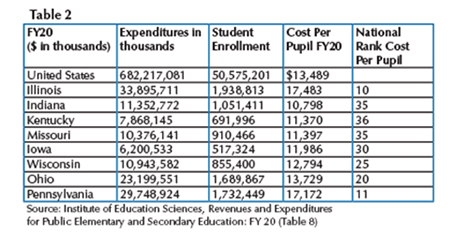 Under EBF, 2022 information from Advance Illinois indicates "that the formula is working exactly as planned." New state money through the formula — new tier funding — totaled $1.57 billion and is being distributed to property-poor districts serving students from low-income households. As of FY23, the average percent of adequacy for students from low-income households was 77%, up from 68% in FY18.

Accountability
Illinois' vision for K-12 education includes "Illinois is a state of whole, healthy children nested in whole, healthy systems supporting communities wherein all citizens are socially and economically secure. Illinois' state plan under the Every Student Succeeds Act (ESSA), approved in 2017 is "based on multiple measures of school performance and to promote best practices for sustained change."

Illinois' ESSA plan includes in its introduction, "In Illinois, we believe that a universal culture of high expectations is fundamental to creating and supporting the conditions that provide the best opportunities for all students. ESSA fosters the conditions for Illinois to implement a holistic, comprehensive, and coordinated system of support that prepares each and every student for academic excellence and postsecondary success."

The Education Commission of the States (ECS) dives deep into the states' accountability models, stating "States have leveraged the flexibility under the Every Student Succeeds Act (ESSA) by integrating existing school improvement systems with ESSA requirements or establishing school improvement requirements in addition to federal expectations."

One familiar "front page" of accountability in the state is the Illinois Report Card, an annual report released by the Illinois State Board of Education (ISBE) that offers data points to show how each school and district are progressing on a wide range of educational goals.

The Wisconsin Department of Public Instruction has a similar data program. Indiana has a similar, more narrative-driven system, with the requirement that these are published in the local newspaper.

National efforts to define and measure accountability historically struggle to separate the threads and to draw comparisons within a wide range of models, measures, and plans, not to mention the magnitudes of differences between states, districts, and schools. The National Center for Education Statistics, an agency of the U.S. Department of Education, offers tools for comparison.

This includes the "Nation's Report Card," produced National Assessment of Educational Progress (NAEP), in which comparisons can be drawn from a vast variety of data. For example here is a comparison of Illinois eighth graders to those of surrounding states, using the most recent data from 2019.

In Math, Illinois eighth graders had an average scale score of 283, listed as not significantly different from any neighboring state except Wisconsin, which "performed significantly higher" at 289, and Kentucky, "significantly lower" at 278. The highest state was Massachusetts at 294. In Reading, all neighboring states performed statistically similarly to Illinois' score of 265. Only six jurisdictions performed significantly higher, the highest state being Massachusetts at 273.

Across the country, achievement and accountability metrics have been paused or temporarily changed due to the impacts of the coronavirus pandemic on education.

Current Events
Teacher Salaries: According to Education Week, the national average public school teacher salary for 2020-2021 was $65,293. Salaries vary widely by state, with Illinois, at $70,705, ranked 12th. New York at $90,222 was first and Mississippi at $46,862 was last. Neighboring states all had lower average teacher salaries with the nearest being Wisconsin at $59,992.
Teacher Shortage: In data reported by The 74, the teacher shortage in Illinois is comparable to that of the nation. Illinois reported 1,703 vacancies in 2021-2022. The estimated teacher position vacancy total nationally was 36,504. Using the metric of vacancies per 10,000 students, Illinois at 8.76 was lower than our neighbors in Indiana (9.48), Kentucky (12.25), and Wisconsin (30.9 per 10,000) and lower than Missouri (0.43) with Iowa data unavailable.
Sex Education: ECS reports that 29 states mandate some form of sex education. Illinois does not mandate school districts teach sex education, but for districts that do, the Keeping Youth Safe and Healthy Act, passed in August 2021, includes national sex education standards developed by SIECUS: Sex Ed for Social Change. This does not override local decision-making granted to school districts and parents can review the curriculum and/or opt their children out of sex education classes.

Social and Emotional Learning: llinois through ISBE has state Social and Emotional Learning Standards built on three goals: development of self-management and self-awareness, use social awareness and interpersonal skills to establish and maintain positive relationships, and demonstrate decision-making skills and responsible behaviors. These goals are based upon work done by CASEL (the Collaborative for Academic, Social and Emotional Learning), and are used nationwide.

Other Legislation: ECS reports that, in 2022, states have passed 172 bills directly related to K-12 education, and another 320 are pending. Illinois is at the top of the charts, with 43 bills enacted — in 2022 alone. See page 7 for more on the legislative impact on Illinois education.

Governance: Illinois has, according to the Illinois School Report Card, 852 school districts which are governed by a board of education. At the state level, ISBE oversees PK-12, administering public education in the application of state laws that pertain to school districts.

Section X of the Illinois Constitution states
"A fundamental goal of the People of the State is the educational development of all persons to the limits of their Capacities. The State shall provide for an efficient system of high quality public educational institutions and services. ... Education in public schools through the secondary level shall be free. There may be such other free education as the General Assembly provides by law. ... The State has the primary responsibility for financing the system of public education."
Boards of education in Illinois are responsible for employing the superintendent, setting policy for management and governance of the school district, maintaining facilities, setting teacher salaries, establishing policy for determining curriculum, and reporting data to the state board of education. School boards set the school district's budget, approve expenditures, and maintain contracts. Boards of education in Illinois have seven members, who serve staggered four-year terms that are determined by elections held bi-annually in odd-numbered years. Illinois school board members are unpaid.
Illinois' governance model is fairly standard across the United States, although there are some notable differences, even within states. Some localities have elected school superintendents. Some school board members receive a stipend or salary, including Alabama, California, Florida, Louisiana, Michigan, New York, Minnesota, Virginia, and most recently Colorado. Indiana school districts can pay board members up to $2,000 per year. Missouri school board members can receive a stipend. In Wisconsin, the board can set its salary. Iowa, like Illinois, does not pay school board members.
Some school boards have three seated members, most have seven, and some large districts nationwide have over a dozen. In the states surrounding Illinois, laws indicate smaller school districts have five school board members; larger districts have seven, nine, or 11. In Wisconsin, for example, an elementary or high school district can have three school board members; if it's coterminous with a town or has a population of 500 or more it may have five school board members. A district with elementary and high school grades may have three, five, seven, or nine members, and a common or union high school district may not have more than 11.
Nationally, some school board members are appointed, while others are a mix of appointed and elected. Some school board elections are partisan and others, including Illinois, are not.
As noted, Illinois has 852 school districts per the Illinois Report Card, serving a state population of 12.6 million people. In 1983, Illinois had just over 1,000 school districts.
Indiana has 295 school districts, Kentucky 175, Missouri 212, Iowa 368, and Wisconsin 426. Among states with the most similar populations to Illinois, Pennsylvania has 12.8 million residents and 501 school districts. Ohio has 11.7 million residents and 597 school districts. Texas and California have more school districts than Illinois.
ECS classifies Illinois in its Model II of state education oversight: Voters elect the governor, who then appoints either all or most of the members of the state board of education. The state board, in turn, appoints the chief state school officer. Missouri and Kentucky follow similar models. Iowa, Indiana, and Wisconsin follow different models.
Illinois school board members must complete Open Meetings Act training within 90 days of taking office, and additional training on education and labor law, finance and accountability, and fiduciary responsibility in the first year. Of Illinois' neighboring and comparable states, only Pennsylvania has similar legislation. The Keystone State requires its department of education to provide a training program — including academic programs, personnel, fiscal management, governance, ethics, and open meetings — for new board members. Ten other states have similar requirements for board service.
Theodore Roosevelt is quoted as saying, "Comparison is the thief of joy." Comparing Illinois to its friends and neighbors encompasses both "like vs. like" and "apples to oranges," depending on perspective, era, common factors, and mitigating circumstances. Another way of looking at it might be this from an unknown source, "Don't compare the sun and the moon; they both shine in their time."
Theresa Kelly Gegen is Editor of the Illinois School Board Journal. For links and resources associated with this article, see the Journal resources link at iasb.com/Journal.