Teacher/Administrator Shortage: A Commentary on How We Got Here,  and Our Road to Solving the Proble
Teacher/Administrator Shortage: A Commentary on How We Got Here, and Our Road to Solving the Problem
By Jim Rosborg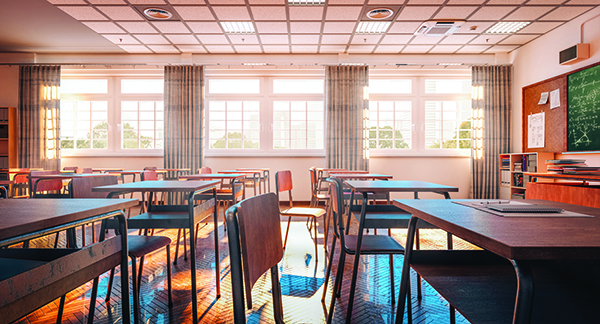 The following is the author's perception of the teacher/administrator shortage history in Illinois and ideas for ending the current problem. As an educator and researcher, I have been encouraged by actions at the state level, but work is still needed. Illinois must overcome the fact that more educators are leaving the field than coming in. First, the discussion will be centered around some of the problems that evolved. Then, I will outline positive efforts and potential needs to improve the educator shortage.

In the February 1, 2022, edition of the Wall Street Journal, Kathryn Dill wrote a compelling article entitled "Companies Are Hot to Hire Teachers Quitting in Droves." The article states that teachers are leaving the education profession to "work in sales, software, healthcare and training and other fields." Dill stated that COVID protocols, such as switching between online and classroom instruction, with the additional problems of teaching challenging students and dealing with difficult parents and administrators, have led to a mass exodus of teachers in the profession.

This should be no surprise in Illinois. The downward spiral, teachers and administrators leaving the profession, began in 2010 when the elaborate teacher/principal evaluation process, teacher basic skills test, and new degree requirements created unnecessary burdens on educators. An additional factor included no teacher license state-to-state reciprocity, which discouraged teachers from coming to Illinois. Other issues causing the teacher shortage long before the pandemic include the lack of social and emotional support, few state incentives such as the teacher tuition scholarships given in the 1960s and 1970s, low competitive salaries exacerbated by Illinois having no state budget for three years and changing the retirement age from 55 to 67.

The nationwide reform movement at the time forced a major teacher and administrator licensure change in Illinois. This effort, which included a university-required entrance examination, titled the Teacher Basic Skills Test, which, in my opinion, was unfair and was created specifically to reduce the number of licensed teachers in Illinois. The policies led to the reduction of teacher licenses which had a cascading effect: a reduced number of principal licenses and, accordingly, fewer superintendent licenses.

Respected educators (including William Phillips at University of Illinois Springfield, Nick Osborne at Eastern Illinois University, Ken Jandes at American College of Education, Howard Bultinck at Northeastern Illinois University, and me at McKendree University), who were all once administrators, voiced strong disagreement with many of the efforts. Below are some of the key points that were made in 2010.

At the time, this group opined that Illinois should not try to limit the number of "teacher certificates" (the terminology at the time) as many of the graduates go into other fields which then reduces the pool of teacher candidates. It also stated that it was important to have a full resource of teacher candidates from which school districts could choose.

Now, as expressed in the Wall Street Journal, teachers are qualified for other workforce positions, and they are leaving the field of education. Dill cited data from the Labor Department that from January to November 2021 nearly 550,000 educators resigned their school jobs in the U.S.

In 2010, universities knew that principal preparation programs included candidates who might not want to be administrators but were completing administrative programs to become better teachers or teacher leaders. Universities and school districts understood this to be better for our profession. We identified a new rubric for principal preparation programs as cumbersome. In 2010, university principal programs had an intense curricular component. One of the most egregious components in the initial rules was eliminating Type 73 (guidance counselors, school psychologists, speech therapists, and nurses) from achieving the principal license. Ultimately this reduced the number of principal candidates.

Under the current ISBE leadership and lobbying efforts by educational groups, this has now been changed to allow Type 73 personnel to earn their principal licensure. This was a great move by the legislature to correct past mistakes.

In 2010 the educators stated the Basic Skills Test (later changed to the Test of Academic Proficiency) was not fair and would adversely impact teacher education programs. Why test language arts teachers and elementary teachers in analytical geometry and trigonometry to obtain university education degree admission? University passage rates on the state test declined from nearly 90% to 25%. Passage rates for minority students dropped to 10%. A significant number of potentially outstanding teachers were not allowed in the education field because of this test. When I was superintendent of Belleville SD 118, some of my best teachers did not earn straight As in college. I have not observed a dramatic increase in principal and teacher skill sets due to these restrictive efforts, but boards of education have dramatically fewer choices in hiring. The goal of employing the highest-quality teacher candidates has shifted to a goal of hoping to fill vacant positions.

Today, we are thankful that ISBE and the legislature have ended this unfair entrance test. This is a big step towards improving the teacher and administrator shortage.

In 2010 the group said that the decrease in the number of education candidates would force universities to increase tuition. This happened and the results have been staggering. Increased tuition has limited many outstanding economically challenged and disadvantaged students from applying to universities. This was verified by some of the initial research Patrick Rice, Clinical Assistant Professor, for Education Policy and Organization and Leadership at UIUC, and I performed in 2015.

Seven years later, the number of students going into education is not good but is getting better.

The educators stated back then that more strict certification requirements would lead to a teacher shortage which would eventually lead to either no certification requirements or declining standards. In the November/December Journal, authors Hans Andrews and William Marzano stated that quick fixes, like bringing back retired teachers, increasing current teacher workloads, bringing in foreign teachers (occurring in Arizona), and using paraprofessionals in licensed teacher positions, are being discussed.

Current Efforts
Current efforts at the legislative level are excellent but I expect are not going to be totally effective. Legislators are genuinely concerned about the problem and want to work towards solutions. Leaders at ISBE are doing their best to make the necessary changes to end this tough societal dilemma. Jason Helfer and Emily Fox, part of the current licensure leadership team at ISBE, have been receptive to many of these ideas and have assisted my research.

The suggestions that follow are worthy of discourse by decision-makers. Now is the time for immediate and real action that helps to significantly reduce or even eliminate the shortage.

Positive Steps Taken in Illinois
The Illinois Legislature and State Board of Education have taken positive steps to solve the current teacher/administrative shortage in Illinois. A great thank you goes out to them for their latest efforts in passing legislation expanding the substitute teacher pool, lowering the paraprofessional age requirement from 19 to 18, and getting rid of the provision that made retired teachers pay a $500 penalty for a lapsed license (it's now $50).

Other positives are on the horizon. Candidates who did not have to be subjected to the Illinois Test of Academic Proficiency, which limited potential great teachers from entering the field, will soon be coming out of universities. I expect applicant numbers to go up. Some in the field were concerned about rigor lost in the process, but candidates still must pass the Content Area Test in their field, which preserves rigor in education preparation.

According to ISBE and as reported by WGN-TV in April 2022, nearly 5,500 education positions went unfilled for the 2021-2022 school year. The top reason was lack of candidates. Illinois has made progress and Governor JB Pritzker pointed out in the report that 5,600 teachers have been hired this academic year. More individuals are entering education, but still more are leaving. We have work to do.

Positive Steps Still Needed
While it is not my expectation that the legislature passes all these suggestions I list below, some need to be implemented. Current changes in the law regarding the educator shortage are not enough. The first category has recommendations the legislature can pass at no cost (or optional cost), to the state.
Offer "Grow Your Own" incentives, providing opportunities for current high school graduates to come back and teach in their home district. Such a plan should include a pipeline for paraprofessionals to become certified teachers. This is a matter of lessening restrictions that currently force paraprofessionals to quit their jobs to student teach. This program would also alleviate the serious problem we have filling teacher positions in rural communities and areas of economic distress and would make the teaching field more diverse.
Start "Future Teachers of America" clubs in high schools. These programs were popular in the 1960s and worked to raise interest in education. Encourage local and state FTA scholarships. Costs would be incurred but would be worth the long-range results of more individuals in the pipeline. These clubs encourage current teachers to speak more highly of the education field which currently has been reported as a problem.
Lower restrictions on industrial technology (Career and Technical Education), and elementary licensure. Specifically, kindergarten should be placed back with elementary licensure as this non-researched change has caused placement problems in many districts. Alternative certificates should be offered in industrial technology/CTE and other areas where there are great shortages, without taking away the course rigor needed to be a skilled teacher. I think an additional positive would be to move the current secondary license to at least a Grade 7-12 certificate instead the current non-researched Grade 9-12 certificate
Explore programs to assist in teacher retention. We will not be able to tackle the teacher shortage without addressing current turnover trends in teacher career paths. This might include encouraging districts to include activities in their professional development plans, attendance bonus incentives, and having staff socials, etc.
Form a task force to study overregulation, and regulate for success, not failure. Establish achievable benchmarks. ISBE's benchmark on the SAT state test is 50 points higher than the benchmark established by the College Board. ESSA guidelines set up many schools in Illinois to be perceived as failures, when many are excellent schools with fine instruction. I would add that the state must relax outdated and unnecessary laws and rules that govern principal prep programs. In addition, over-reliance on testing and the Danielson evaluation model has driven both teachers and administrators out. When I started teaching in 1972, we made pennies but had academic freedom and loved our work. That is no longer true. It has become not fun, offering few rewards, and the feeling of accomplishment has waned.
Illinois needs a marketing/promotion campaign to highlight the value of teachers. Life is short. Teachers change lives and help create the future. I think Governor Pritzker could lead the charge with a slogan and ad campaign to retake lost ground on respect for teachers. Show adults whose lives were changed by teachers and what they have done. Teaching is hard, very hard. Don't hide that. But it can be worth it.

Next are some ideas that need to be changed at the university level. In my opinion, this will be the hardest level to change, because universities are locked into tradition and protection of tenured professors' turf and maintaining the courses they are currently teaching.
Encourage universities to limit future increases in tuition to assist minority, low income, and overall student enrollment. Open the door for the financially challenged student. Universities across the state have been raising tuition at approximately 7% a year. The higher the tuition, the fewer candidates we have. Costs, along with the virus threat, could be devastating to universities. We have already seen some long-established universities close their doors.
Set up university study commissions to evaluate general education classes offered at the first- and second-year undergraduate levels. Too many students drop out due to lack of interest in general education classes that are not imperative to the development of a good teacher. This could extend resident student-teacher programs so the candidate could have more experience in the classroom.
Start residency programs to increase the number of individuals in Illinois who have their teaching license. Teacher residency programs are an alternative pathway for prospective educators who already have a bachelor's degree. The model integrates master's-level content with a yearlong classroom internship in a public school. (Look for more on the residency model at the Journal resources link below).
My final recommendations for legislative solutions include some cost factors. Recent legislation provides good band-aids, but in my opinion will not have a long-term impact on the teacher shortage. For example, many retired teachers have no interest in going back to the classroom. Belleville SD 118 has approximately 300 retired teachers and administrators; 20-25 are actively substituting. The solutions I am listing below will have costs but will greatly help the teacher shortage.
Offer tuition scholarships to teacher education candidates. These state scholarships in the past provided individuals such as this researcher the ability to attend college. Though I had to make a five-year commitment to teach in the state, the scholarship changed my life. I went on to be a teacher, principal, superintendent, and university professor and am now in my 50th year in education. I give thanks that I was in a state that gave individuals such as myself the boost to be able to succeed. The Illinois Black Caucus is pushing for minority scholarships, and I hope they are successful. Such scholarships are needed for all races and ethnic groups, especially students who come from economically challenged environments.
Provide hiring bonuses to high teacher shortage positions (math, science, early childhood, industrial technology, special education, and ESL). Rural communities and schools experiencing high poverty should be placed in this consideration.
Illinois must lower the retirement age from 67 to at least 62 for Tier 2 and Tier 3 teachers. Teachers in the field before 2011 can retire at the age of 55 (Tier 1). Teachers entering the field after 2011 (Tier 2) and in the future (Tier 3) must work until they are 67. Age 67 is too old (Missouri allows full retirement as young as 53). Now that the basic skills test has been eliminated, I view the retirement rule as the major factor for young people leaving Illinois high schools for out-of-state universities in the field of education.
Continue to support mentoring and induction programs. Finance local school efforts and encourage school districts to build these efforts into their professional development plans.
Develop avenues for existing paraprofessionals to get their teaching licensure in a streamlined process. For example, decrease observation hours because of classroom experience. Transfer college credit. Provide more flexibility for paras, such as setting up time for the paras to student teach in the summer months when they do not have to conflict with school contracts.
Establish alternative pathways for teaching licensure, paraprofessionals, and substitute teachers without lowering the standards of instruction. Prioritize resources for minority candidates, those teaching in e-learning environments, and areas of teaching shortage. This includes high-needs areas that have been severely impacted by state regulations and the pandemic.
In addition to tuition scholarships to teacher education candidates, establish low-interest loans for education students along with lower tuition for individuals going into university education programs.
Continue to look at ways to raise teacher salaries and provide state funding for the additional costs placed on school districts. Currently, the state law regarding future teacher salaries states that the minimum salary for all teachers will be $40,000 by the first day of school, 2023. This is good if the state financially supports districts to make this change. I hope this will help keep teachers in the classroom and bring more high school students into the field.
Decisions need to be based on research, and Illinois needs to change its attitude towards the education profession. Teachers changed my life. Now more than ever, the state needs to provide school districts and universities consistent guidelines and continual support to fight the impact of the pandemic.

Total focus is needed to end this problem. It would make sense to establish a commission to look at changes that need to be made in policies that have limited individual opportunities to become licensed teachers and administrators. The legislature and ISBE have made a great start. Now take the next big step forward to solve the problem.

I am passionate about this issue. My passion is that I want highly qualified teachers to teach in good work environments. I want my six grandchildren and all students to have the best teachers possible. I want boards of education to have choices in their hiring practices. I want all individuals, no matter their race, creed, or economic status to have the opportunity to become licensed in the education field. The bottom line is that we need more action now on this topic to solve a problem that is not going away under current conditions, even though some great improvements have taken place.

Jim Rosborg, Ph.D., is Past President of the Illinois Council of Professors in Education Administration, retired Superintendent of Belleville SD 118, and chairs the Ed.D. Committees at McKendree University. Resources associated with this article can be accessed via bit.ly/JA22JRes