Together, Apart: Districts Share Stories of Response and Support
Together, Apart: Districts Share Stories of Response and Support
Collected by Theresa Kelly Gegen

With school buildings closed but learning continuing, Illinois school districts are rising to the challenges of the coronavirus pandemic — a worldwide emergency with enormous local implications. As of this writing, we don't know when Illinois public school students will be back in their classrooms. Here are some vignettes from school districts, a few of the millions of ways education leaders in Illinois — together apart — are supporting each other and their communities through these challenging times.
Remote Learning
First things first, schools are there to teach their students. In the building closures of the pandemic, that means remote learning. School districts have a range of capacity and infrastructure in place for e-learning, and have been tasked in this emergency with developing remote learning plans to meet the needs of their students. The state's remote learning guidelines, to fulfill attendance and calendar requirements during the coronavirus pandemic, were announced by the Illinois State Board of Education on March 27. Here are some of the ways districts are rising to the challenge of school buildings being closed, but schools themselves being open.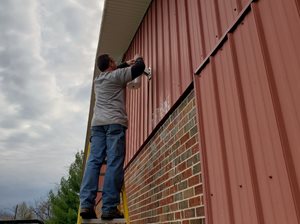 Bunker Hill CUSD 8 is among the school districts in Illinois that improved hotspots to be used by students outside of school buildings. A "Homework Hotspot" at the district office got an upgrade with help from Staunton-based Madison Communications. Students were directed where to park and to "practice social distancing" when using it.
Odell CCSD 435 partnered with Pontiac THSD 90 to provide an exterior internet access site at its building. Odell Superintendent Mark Hettmansberger wrote,
"We are a small K-8 district and the overwhelming majority of our students go to high school at PTHS, about 12 miles away, The two districts were trying to figure out a way to provide internet access to the high school students who live in Odell but go to high school in Pontiac, as well as to provide internet access for our own Odell students. I looked into acquiring hotspots but the turnaround on those was going to be a month or so because of the demand (other schools apparently beat me to that idea). So in collaboration with PTHS, we installed an exterior internet access point on our building, so that PTHS students or OGS students can access the districts' internet from our parking lot. We even received some picnic tables from a local business to put in the parking lot so that students could work outside and enjoy the weather on a nice day."
In other districts, if students don't have Wi-Fi, Wi-Fi comes to the students. Among the earliest news of a district meeting students' tech needs was from Belleville THSD 201, which deployed four school buses equipped with Wi-Fi to locations throughout its school district. The buses are stationed for several hours each midday at local parks and public spaces.
Some Illinois school sites became computer distribution centers. Minooka CHSD 111 transformed a pilot program in its early stages into a full roll-out of one-to-one Chromebooks. Chicago Public Schools was aiming to deliver at least 100,000 devices for students to use at home as the district implemented a remote learning plan for 230,000 students.
Other districts augmented e-learning capabilities, or replaced them entirely if circumstances warranted, by developing learn-from-home packets.
"Like a whisper in the wind," said Winfield CUSD 34 Superintendent Matt Rich in an April 3 Tweet, "the … instructional materials fairy was delivering learning materials for Spring Breakers doing Google Hangouts from their pillows. Great excitement could be felt for learning resumes next week."
Downstate districts, many working with a lack of internet access, are doing even more with packets — many with added value. Some McLean Co CUSD 5 elementary students received assignments along with school supplies, food, books, and personal items. In Campbell Hill, Trico CUSD 176 Superintendent Larry Lovel Tweeted, "Trico Strong school supply reinforcement bags with census reminders set to go out with food delivery next week. Mad props to our staff for addressing all facets of student and family needs!"
Meals on Wheels
Among the first concerns for school districts was how to feed children eligible for free and reduced meal programs. Some districts were already feeding every student, others chose to make meals available to all during the building closures. As the situation changes, so do the "meal plans" as districts team up with local restaurants, farms, and food pantries.
Staff at Argo THSD 217 worked to provide "Grab & Go" meals for its students and those in the local elementary districts. Danville CUSD 118 opened a partnership with Vermilion County's McDonald's to safely distribute food to area schoolchildren. Belleville THSD 201's other buses drove bus routes to deliver food, as did nearby Triad CUSD 2 in Troy and, a little to the north, Jerseyville CUSD 100.
Calumet Public SD 132 board member Synathia Harris wrote,
"When I first heard that the schools were possibly closing due to this pandemic, I reached out to my superintendent immediately days before closing. I had great concerns as to what plans did we have to prepare our district babies? When the staff met, one of the concerns was how we were going to feed our students. Our families depend on bus service, and we needed to discuss safety — there are danger zones in the routes to pick up their meals. Our district came back to me and stated that they were going to use the school buses to make stops as they would do on a regular school day."
Together apart
Once meal and learning plans were secured, school districts turned to keeping students' attention. Dozens of Illinois school districts offered stay-at-home versions of special days and spirit weeks to their students. Collinsville students and staff wear purple on Fridays, and at-home Fridays are no exception. Sherrard CUSD 200's spirit week included reading, outside, game, creative, and celebrate days.
Martinsville CUSD 3C elementary students followed a spirit week with "Connection Challenges," such as Royal Readers, Cool Creations, Costume Contest, and Show and Share. Spirit weeks were on the new calendars for Crystal Lake SD 47, and Stark County CUSD 100.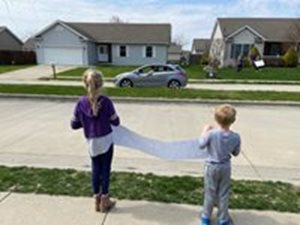 Parades — social distance safe parades, to be sure — popped up all over the state. Cerro Gordo CUSD 100 lifted its students' spirits with a parade of emergency vehicles and teachers waving to students, and similar events took place in Egyptian CUSD 5 in Tamms, Harmony Emge SD 175 in Belleville, Lockport SD 91, New Berlin CUSD 16, Oregon CUSD 220, Windsor CUSD 1, and more.
Many classrooms, including fine arts, and school leadership groups are meeting via Google Classroom or Zoom video-teleconferencing platforms, exchanging work over servers, and gathering on social media. In Springfield SD 186, Pre-K teacher Dee Dee Duffy uses Facebook Live to connect to her pre-K students, including the progress of the classroom chicks that she brought home to hatch.
Low-tech communication is evident as well. Sidewalk chalk has made a comeback all over the state including at Streator THSD 40, where Superintendent Matt Seaton Tweeted, "So proud of our students, staff, and community for the ways in which each have stepped up during this time!" with chalk art saying "We will be OK" and "When it rains, look for the rainbows."
Ridgewood CHSD 234 in Norridge is not only keeping students in the loop, students are the loop. Superintendent Jennifer Kelsall wrote, "We have student representatives from each grade level, led by a senior student, who help push out school communication through additional social media. These student communication ambassadors helping spread essential information."
In the community
The global coronavirus emergency has brought unprecedented challenges to local medical communities, and schools, districts, leaders, and students are finding ways to help resource and create personal protective equipment (PPEs).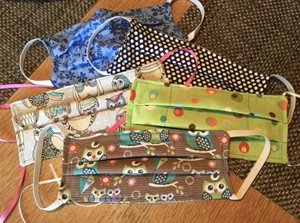 Mary Kay Prusnick, a school board member for Schaumburg CCSD 54, made and donated cloth masks, so higher-level equipment could be donated to hospitals. Her tweet read "Design. Iterate. Consult sisters. Tweak. Iterate. Redesign. Break two needles. Call mom. Reiterate. Run out of elastic. None on earth. Reiterate. Keep going. Tonight's project. Also I might have an inclination toward owl fabric."
Arlington Heights SD 25 collected cases of PPEs from the school nurses in the district and donated them to local hospitals. Collections also took place at Decatur SD 61, Libertyville THSD, the Illinois Math and Science Academy, Freeburg SD 70, Evergreen Park SD 124, and many more, including cases upon cases from Elgin-based School District U-46.
Some schools and students took PPE a step further, deploying 3D printers to create masks for health care workers and first responders. A Frankfort CUSD 168 student, Adin Woods, has printed and delivered hundreds of PPE-comfort devices to local hospitals. Among the districts in the 3D printing arena are THSD 214 (see page 32) teaming up with Harper Community College in Arlington Heights, CPS's Frederick Von Steuben Metropolitan Science Center High School, and Ridgewood CHSD 234. Wrote Ridgewood Superintendent Kelsall,
"We have a student, Adam Kloptowski, who initially reached out to see if he could access our 3D printers to print masks from home. He collaborated with teachers Derek Cappaert, Andrew Hebert, and Eric Lasky as well as elementary science teacher, Cathy Lenzini from Union Ridge School District 86. They have since shifted production to face shields. They also reached out to other schools in the area to do the same thing."
These are a few of the millions of stories of school districts, leadership teams, teachers, staff, and students finding rising to the challenge together, apart. Find more on social media using the hashtags #allinillinois and #ilschoolsstepup and in IASB's online Leading News feature, a daily look at the education headlines.
Theresa Kelly Gegen is Editor of the Illinois School Board Journal.