Getting it Right for Every Student
Getting it Right for Every Student
By Ken Wallace
Maine Township High School District 207 serves 6,400 students in nine communities wrapping around the northeast side of O'Hare International Airport. The district has three comprehensive high schools, Maine East, Maine South, and Maine West, two of which have become majority minority since the turn of the 21st century.
About 10 years ago, as we began looking deeper into long-term economic trends, we realized that we needed much more precision in our career and post-secondary advisory programs. Based upon this new way of thinking, we have set out to "Get it Right" for students by focusing on real-time information and projected jobs data to provide the highest level of Return on Investment (ROI) Career Advisement possible. We created a video to show what it looks like when that happens for a student, in this case Maine West graduate Konrad Ryk of the Class of 2019. He went right to work as an Industry Consortium for Advanced Technical Training (ICATT) apprentice this year, getting paid to work while also having his education paid for by his employer.
From the end of World War II until about 1980, in the United States as productivity rose, wages also rose in near-perfect correlation. In the late 1970s, a different trend emerged: productivity continued to spike upward, yet wages remained relatively flat. This trend continues today. Beginning with the G.I. Bill after World War II, enrollment in colleges and universities steadily increased until only recently. In general, the thinking, supported by some evidence, was that the path to better income outcomes in lifetime earnings correlated to holding a college degree. While still true, that story doesn't begin to tell the full picture.
Years ago when the cost of college was relatively inexpensive and more state and federal aid existed to help students in need afford college, these trends might not have mattered much. But the cost of college has risen at rates that far exceed household standard of living increases in the U.S. in the past three decades. At the same time state and federal aid has diminished. Today, current and former U.S. college students hold over $1.5 trillion in college debt, a significant drag on the economy. According to the Economic Policy Institute's analysis of data from Kopczuk, Saez, and Song (2010) and Social Security Administration wage statistics, wages for the top 1% of earners in the U.S. have risen 138% since 1979, while wages for the bottom 90% rose just 15%. Meanwhile, college costs have risen more than 160% since 1988, according to the College Board.
Underemployment of College Graduates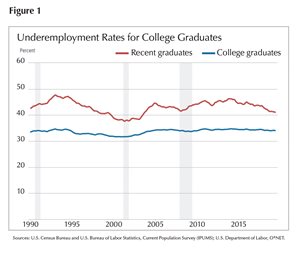 Long-term trends show that a significant percentage of college graduates have always been underemployed, meaning they work in jobs that do not require a college degree or they came out of college with debt that was hard to justify by starting salaries in many professions. Recent data from the U.S. Bureau of Labor Statistics, U.S. Department of Labor, and the U.S. Census Bureau peg this underemployment at around roughly 45% for recent college graduates and between 30% to 35% for all college graduates over time since 1990. (Figure 1)
Serving All Students
Upon my arrival to District 207 in 2005 as the Assistant Superintendent of Curriculum and Instruction, we were a very traditional high school district, thinking solely about college preparation without paying attention to the actual work economy. At that time we had two jobs: help students graduate from high school and get them enrolled into college. The deeper I looked, the more I realized that this approach was not serving all of our students or our business sector well.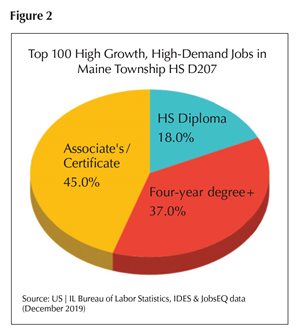 Every person in the United States born after 1980 belongs to the first generation of Americans not predicted to earn more than their parents, according to the Pew Research Center. The evidence was telling us for decades that we needed to be more precise in our work with students. We just weren't paying attention. In 2013, we set out to reinvent everything about how we advise students for careers and post-secondary education. The data that really convinced me that we had to reinvent ourselves was when we looked in our backyard and found that the majority of good jobs (high demand and high wage) in Maine Township existed in the space beyond a high school degree but before a four-year college degree. That data also tracked with the rest of the nation then and still does today. (Figure 2)
What if we tried to do that for EVERY single student?
Project Lead the Way (PLTW) courses have been taught since 1997 in American high schools and more recently in middle schools. We considered their research, which shows that students in PLTW courses are more likely to major in a STEM-related field, and to enter and stay in careers in science and engineering. Because PLTW is a project-based curriculum, the theory is that students get to "try on" what the work really looks like while in high school. That try-on time provokes responses, including if a student doesn't like a particular field. How many PLTW students don't major in engineering because of the experience in the course?
While we strive to help each student find their passion, leading to a career in a field of great interest and passion that pays a livable wage, we realize and think there is great value in helping students figure out what they do not want to do along the way. Too many of those students enroll in post-secondary education pathways only to find out later, perhaps once they have begun real work in a field, that it isn't a good fit.
I asked the question of our team, "What if we tried to replicate the PLTW design for every possible career in which our students had interests?" And we set out to do just that.
We consider it a longitudinal research study that will take some time to arrive at answers to our essential question: How many iterative and authentic career experiences would we have to provide for each student to get to a 90% match rate where students know both what they want to do for a career and how they will get there? In my opinion, there is not a more important question to be answered in American schools than this one. Here is an overview of our program.
Career Plan Approach
Each student has an individual career plan that is part of our four-year checklist of career advisement and experiences that are all considered Tier 1 (every student gets it) strategies. We expose students to a variety of in-class and off-campus career exploration opportunities, both through interactions with staff and business partners, but also with a variety of next-generation career software applications that have real-time job data to help students and families make better decisions.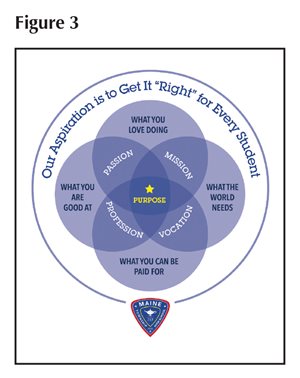 Our design thinking (Figure 3) is based on helping students find their "Why" (passions, interests, dreams, strengths, big problems to solve) first before working on the "Where" that happens. We believe, and are developing ways to study our work longitudinally, that if students can first find a match in a career field of high interest (we steer toward those with a livable wage) that they will persist on whatever education path, from certification to apprenticeship to college degrees.
Business Partners
When we began this work we had 74 business partners. Today we have over 600. Once a student has identified a career interest we work to provide an authentic career experience in that field, with our gold standard being an internship or apprenticeship. We have worked to be flexible in providing these experiences to make them work for our students and business partners. We want to provoke responses from students, including that a particular career is not for him or her. How many students go away to college to find their path or get directed along a path by others? We want students to find their own path.
While we don't know all of the answers to our research questions yet, each year we get a little better at understanding how to serve our students in what has become a true team effort in District 207. Our teachers have been phenomenal, rising to our call that each of them include at least one meaningful career learning lesson in their class each year. Each month we get more and more great examples of what teachers are doing as more of our staff see themselves as not only educators but also life coaches for students. It's been one of the most remarkable parts of the journey.
None of our work would be possible without our local business partners. There were many people when we began this journey in 2013 who were skeptical that business owners would even want to bother with high school students, but nothing could be further from the truth. Our students have not only been well received by our partners, but they've also added value to those businesses in many ways, helping create original content, build websites, learn skills, and become trusted and valued employees in many cases. Do not underestimate your students or your business partners. This partnership between high schools and local business has the potential for so much more, including community revitalization. We have added partnerships with a variety of professional trade groups as well to help develop career paths for each student. One district that we have worked with in Southern Illinois discovered a high-tech manufacturing firm in town that few people knew existed. Get to know your neighbors. You may be surprised who is out there that can benefit your students and who your students can benefit.
Return on Investment (ROI)
Once a student and family are confident in the career match, we have analytic tools that help provide Return on Investment career and post-secondary counseling. One of our tools, JobsEQ, allows us to search by zip code to find mean starting salaries in any career. Using that information we are working with families to design a responsible education path for each student that seeks to get students to a career of high interest in as short an amount of time as possible in a cost-responsible way. The concept of Return on Investment is important for every district leader to understand. Some parents were skeptical when we began this work, clinging to the conventional thinking that only through a college degree would their children find success. As soon as we began using the ROI term, light bulbs went on for people. Just recently, we've begun to hear other districts begin to use the ROI career advisement term, something we encourage anyone to do who wishes to make this pivot.
One of the essential pieces of our work is the Individual Career Plan, which our counselors help organize and manage with each student on their caseload. You can see samples of the Individual Career Plan at the link below.
We will take advantage of whatever time we have with the students, be it remote learning or learning that takes place in our schools, to increase the depth of conversations between students, career coordinators, counselors, employers, or other staff to help students continue to consider their futures in as informed a way as possible. Our job is to help "Get It Right" for every student, no matter the circumstance.
Ken Wallace, Ph.D., has been the superintendent at Maine THSD 207 for 11 years. The district has twice been named one of America's most innovative, was Google's first K-12 partner, and is perhaps the only school district in America in which every teacher every year has an instructional coaching plan. Resources for this article, including the student video and more information about the Career Advisement Program, can be accessed at the
Journal
's resources page, bit.ly/MJ20JRes, or reach out to Dr. Wallace directly at
kwallace@maine207.org
.