School Leaders Explore Conflict in the Second General Session
Journalist and author Amanda Ripley kicked off the Second General Session of the 2022 Joint Annual Conference with a presentation on the differences between encouraging good conflict and managing bad conflict.
Ripley is a bestselling author and an investigative journalist who writes about human behavior and change for many national publications, including The Atlantic and Washington Post.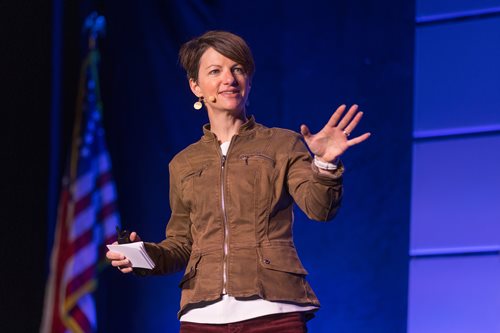 Ripley described high-conflict situations as "self-perpetuating and all-consuming." Issues of race, religion, and even style can quickly become hot-button topics that can lead to unproductive, hurtful conversations. She shared her observation that humans are very good at coming up with reasons to engage in "us vs. them" conflicts.
Her suggestion was to redirect what could become a volatile conversation into a more productive "positive conflict." She differentiated positive conflict by showing how these types of conversations have emotional variance, where there are times of positive emotion sprinkled throughout. Bad conflict, on the other hand, was found to have mainly negative emotions with little to no variance.
In order to break the conflict pattern, Ripley suggested leaning in to learn about the other person's perspective, attempting to understand the root cause of the conflict, and creating distance between yourself and the conflict source.
"Almost always, it's about humiliation, fear, a desire to belong, and status," said Ripley. "If we don't talk about those things, we will never get out of this trap that we're in."
At the start of the session, Kevin Blankenship, president of the Illinois Association of School Administrators, announced PJ Caposey as the recipient of the 2023 Superintendent of the Year award which recognizes a nominee's excellence in leadership for learning, communication, professionalism, and community involvement.
Caposey was the fifth superintendent hired in three calendar years for his district, Meridian CUSD 223, and, on top of that, inherited a financial crisis.
"One of the things that I had to do was restore hope and pride, and bring us back to the tradition of excellence that has denoted Meridian for years, prior to my arrival," said Caposey, in his acceptance video. "I think that we're back there, now."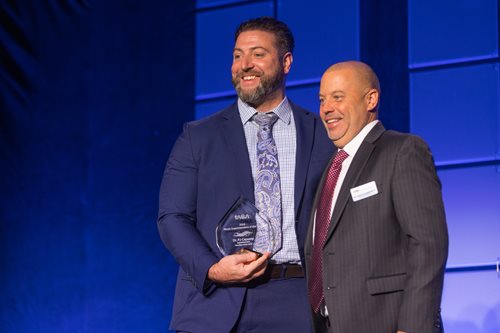 Thanks in part to the leadership exhibited by Caposey, Meridian High School has won U.S. News' Silver Award seven times, and two elementary schools are applying for Lighthouse School designations. Caposey thanked the Meridian CUSD 223 school board for allowing him to speak, travel, write, coach, and take advantage of leadership opportunities.
"…I'm beyond grateful that they afford me those opportunities, because I don't think that I'd be sitting here, recording this video, if it were not for that mindset."
IASB past presidents and executive directors in attendance were also honored during the Second General Session, held on Saturday, November 19, the second day of the Joint Annual Conference of the Illinois Association of School Boards, Illinois Association of School Administrators, and Illinois Association of School Business Officials in Chicago.