Because the Association understands the choice of a superintendent to be the most important decision a board of education will ever make, the Association offers professional services to school boards seeking to fill a vacancy. The Association makes every effort to keep the costs for searches reasonable.
A search typically involves a number of steps:
needs assessment
a profile of the qualifications desired, "the person needed"
a national announcement of the vacancy
professional screening of applicants
school board interviews with the finalists
board negotiations with the selected candidate and the awarding of a contract
An announcement of vacancy is developed for each search. The announcement contains such information as:
a description of the district and community
a description of "the person wanted"
some reference to compensation
application procedures and processes
IASB welcomes the opportunity to make a personal presentation regarding its services to any member board of education that anticipates a search. There is never a cost for this presentation. A personal presentation will allow the board to explore a variety of options (or levels of service) for the search. A superintendent search, by its very nature, is an individualized effort, customized to fit the needs of a particular district.
Please refer to these FAQs for further information, or contact someone on the Executive Searches staff.
---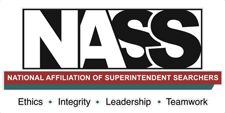 IASB is an equal opportunity employment search agency and a member of the National Affiliation of Superintendent Searchers.