2020 Survey Highlights IASB Communications
2020 Survey Highlights IASB Communications
By Theresa Kelly Gegen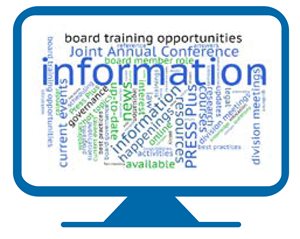 The mission of the Illinois Association of School Boards is to Light the Way for its members by developing their competence and confidence through a robust toolkit designed to build excellence in local school board governance, including
Premier training experiences;
Networking opportunities for mutual support;
Valuable benefits, pooled services, information, and expertise;
Advocacy on behalf of public education; and
A platform for a strong collective voice on common interests and concerns.
The purpose of the recent IASB Member Survey, open from February 25 to April 11, 2020, was to shine a little light into the delivery of that robust toolkit, highlight the information piece of "valuable benefits, pooled services, information, and expertise," and to make sure IASB is fulfilling its mission regarding the "common interests and concerns" of school board members in Illinois. Specifically, the survey focused on methods of communication and assessed Association products and services to gauge member engagement and satisfaction.
This was the seventh IASB all-constituent survey, although the Association sends out targeted surveys to event participants and as part of executive search functions. IASB surveyed its members with long, in-depth surveys every five years starting in 1993. As times and technology have changed, so have these surveys. Starting this year, IASB plans shorter, focused surveys every two years.
Over 1,600 individuals responded to the 2020 survey, with representation from each of IASB's 21 regional divisions. The survey asked 30-40 questions of the primary targets of communications efforts and users of IASB's toolkit: school board members, superintendents, other administrators, and school district administrative assistants. A thousand school board members replied.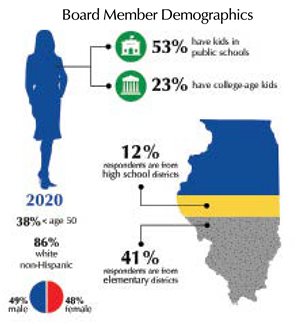 As in each IASB survey, we wanted to know who IASB's members and constituents are. For this one, we also asked what members and constituents need, when they need it, how they prefer to receive information from IASB, and even where they want to get it. Here, we share a few tidbits of interest from the survey results. Furthermore, responses will help IASB assess members' topics of interest, as well as aligning IASB communications strategies, priorities, and delivery systems to improve the member experience.
The survey asked all respondents, no matter what their role, about the urgent issues facing their district. The four-point urgency scale revealed social and emotional learning as the most urgent (2.55 out of 4). Read more about this important topic starting on page 15 of this Journal. As a topic of urgency, SEL was followed closely by teaching, including the teacher shortage (2.53), which was marked as "extremely urgent" by 366 respondents.
Separately, the survey asked board members and superintendents about their interests in a set of topics related to administrative and governance. The top topics for school board members were budgeting and accountability, which ranked closely, both with 30% of the respondents picking them as most important. Considering the same topics, budgeting was the top interest of superintendents, with almost half ranking it first and 90% putting it in the top three. Accountability was a relatively distant second, ahead of facilities and technology.
When asked about student-centered topics, board members overwhelmingly chose academic performance and student growth, ranked first or second by 71% of the respondents. Second and third in that category were curriculum and student safety and security. Again, we asked superintendents the same question with the same possible responses. Superintendents had the same top three, but in a different order and closer margins: the topic of academic performance and student growth was ranked first or second by 68%, next came safety and security, and then curriculum.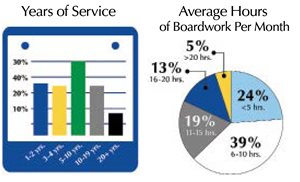 The survey also requested respondents' input on IASB communications efforts. We asked how constituents prefer to receive information, and how often. The centerpiece to IASB communications efforts is the Association's website, which was upgraded in Fall 2019 to meet the changing times in technology and membership. The results of the survey will help IASB tweak some of the finer points of the upgrade, to better meet the information needs of our members. We asked why members use the website and what might be missing, hard-to-find, or under-developed. Our team will take that into account.
The survey responses revealed that board members use Facebook more than any other social media, and are using Instagram more than they were two years ago. Hardly any use Snapchat. Superintendents don't Snapchat much either, but they are more frequent users of Twitter.
The 2020 IASB Member Survey focusing on communications opened for responses just as the impacts of the worldwide coronavirus emergency began to reach Illinois. The survey's midpoint was when the lockdown went into place and school buildings closed on March 17. The survey ended in mid-April, as remote learning was going on throughout the state. Did COVID-19 result in any collective differences in responses? Six percent more respondents preferred to have print items mailed to their homes instead of district offices (which makes sense, considering school facilities were closed). There was also a slight uptick in prioritizing technology among both board members and superintendents. But there were no significant differences before and after COVID-19. From that we extrapolate that school board members maintain focus on the big picture for their districts, even as they navigate an unprecedented emergency.
We'd like to thank each of the 1,646 respondents personally, but we can't, because the survey remains anonymous. We are grateful to everyone who took the time to share thoughts and opinions. In a survey of this size, you can't place too much emphasis on individual responses. However people took time to make comments related to the questions, and that's appreciated as well. The survey may be closed, IASB is always happy to hear from members and improve products, services, and delivery methods. We value your time, and use survey input to focus IASB communications products, improve products and services, develop that strong, collective voice, and help school board members in Illinois continue to light the way.
Theresa Kelly Gegen is Editor of the
Illinois School Board Journal
.