Student-Athlete Concussions: Policy, Protocol, and Play
Student-Athlete Concussions: Policy, Protocol, and Play
By Dan Naumovich

Elsa Wollet, then a junior defender for the Rochester High School soccer team, was playing in a playoff game in 2021 when she collided with an opposing player. Wollet was marking the player on a ball that was crossed into the box when the collision occurred, first striking her head on the opponent's knee and then hitting it on the ground.

"Initially I told myself to keep playing, but eventually I broke down and needed to lay down," Wollet says. "When I looked up at the sky, I knew something wasn't right."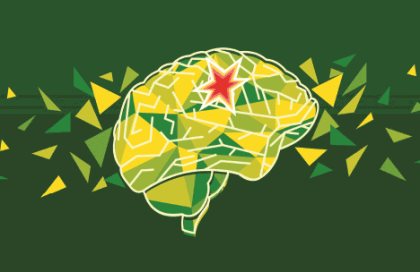 If this had happened 15 or 20 years ago, Wollet might have been diagnosed with simply having her "bell rung." A coach may have even put her back in the game at some point, especially if the contest was still tight. Instead, the athletic trainer for the home team and a teammate's sister, a trainer for another area high school who was attending as a fan, determined that Wollet was unfit for play. She was also ruled out for the next playoff game, a sectional title match that ended Rochester's season. And with that, her 11-year soccer career came to an end when Wollet decided to hang up her boots for good.

"I decided not to play my senior year because I was burnt out and my concussion made me nervous, but I still have love for this sport," she says.

The story is not an uncommon one. According to research compiled by the National Federation of State High School Associations (NFHS), around 140,000 high school athletes suffer concussions each year, many of which go unreported. Although it was quickly apparent to Wollet that she was not able to play, not all concussions are of the bell-rung variety. Some occur during plays with minimal contact. Others may produce symptoms that do not register as serious. But even minor head injuries can have a cumulative effect on an athlete's health, long after they stop competing.

It has been over a decade now since the NFHS issued Return to Play (RTP) guidelines for schools represented by state high school athletic associations. It requires that a player be removed from play if they experience a loss of consciousness, headache, dizziness, confusion, or imbalance issues. In Illinois, only athletic trainers, physicians, physician assistants and advanced practice nurses certified to practice in the state can clear a player to play after they have exhibited any of these signs.

In 2015, the Illinois legislature took the next step in safeguarding against the effects of head injuries by passing the Youth Sports Concussion Safety Act. Under its provisions, schools must adopt policies consistent with Illinois High School Association (IHSA) guidelines on concussion protocols, and all athletic coaches and marching band directors must complete continuing education courses on how to identify the signs and symptoms of a concussion.

"Since the safety of our students is paramount in all that we do, we really had no significant challenges in adapting and adhering to concussion protocols," says Jarett Kirshner, athletic director at Maine West High School in Des Plaines. "Early on, we had several meetings to make sure that everyone understood the protocols, and how to articulate how they will be followed. There was tremendous administrative support and our athletic trainers and school nurses stepped up to make sure that we met or exceeded the expectations outlined by the protocols."

Jon Wiezorek is an athletic trainer at Springfield Clinic who has worked as head trainer at Chatham Glenwood High School for the past 12 years. He says they have simplified RTP processes thereby making every student who enters the protocol go through the same process. It begins after an athlete is free of symptoms for one day. At that point, they can return to physical activity with increasing intensity over the course of several days, which includes participating in a regular practice while remaining symptom-free. At that point, the athlete may be cleared to play again.

"The earliest this can happen would be five days after the 24-hours symptom-free period. Doing the RTP protocol like this has dramatically decreased our repeat concussions. For example, if the student athlete were to have any symptoms on Monday there is no way to be cleared to play in a game that same week," he says.

Wiezorek is at the high school each morning to do injury evaluations, direct rehabs, and assist in strength and conditioning classes. He returns later in the day to cover games and practices. For the past seven years, he has also been providing secondary coverage at Pawnee High School. He makes rounds there on Mondays and the athletic trainer for another area high school is there on Wednesdays.

"We sit in on their concussion oversight committee, but the school nurse does most of their return-to-play protocols since we aren't there on a daily basis," he says

There are currently around 170 students at Pawnee High School, compared to 1,400 at Chatham Glenwood and over 2,000 at Maine West. There was concern that effectively implementing concussion protocols might be impacted by limited financial resources at smaller schools. Stacey Lambert, IHSA assistant executive director who oversees sports medicine, says that resources are not an issue, but finding a qualified athletic trainer can be.

"It's not a big school/small school problem, but more of a geographical location problem," Lambert says. "And it's also not necessarily a southern Illinois thing. There are just a lot of areas throughout the state where athletic training services are very hard to come by. We've been working closely with the Illinois Athletic Trainers Association to address this issue and a member of our Sports Advisory Committee has been added to their board to act as a liaison."

One way that Illinois has been able to further protect players is by making it mandatory for licensed referees and umpires to complete the two-hour concussion education program as well. Prior to this requirement, a referee might have simply asked a player if they are okay after a particularly hard collision, leaving it to the player to decide whether they could continue play. Now that game officials have been educated on how to identify the signs of concussions, they can stop play and notify coaches that a player needs to come off.

"This has made a huge difference. Coaches and trainers can't always tell what's going on from the sidelines, but now you have extra eyes right there on the field who are trained to look after their safety," Lambert says.

Going from a time when playing through an injury was a measure of toughness, to one where an athlete may be kept out of action simply as a precaution, has required a change in how we think about sports in general. And it can lead to some disgruntled players, parents, and coaches.

"There has been some frustration with that, especially if there isn't a physician or an athletic trainer at the game that might be able to clear them immediately, so the athlete has to sit for the remainder of the game. But at the end of the day, we have to err on the side of caution, knowing what we know now about the long-term effects of concussions if they aren't handled properly," Lambert says.

Increased awareness of those long-term effects, and Chronic Traumatic Encephalopathy (CTE) in particular, has driven much of the concern and action in making sports safer for student athletes. CTE is a degenerative brain disease found in people who have experienced repetitive head trauma. First identified in 1928, it entered the national consciousness in 2005 when it was discovered in the brain of a diseased NFL player. Since that time, the issue of CTE has become a hot-button issue in intercollegiate athletics, with lawsuits filed against the NCAA and schools such as the University of Notre Dame and Arizona State University by the families of deceased former athletes who were found to have CTE. These lawsuits have some speculating that the liability issues over long-term brain injuries may impact schools at all levels, leading them to drop sports with a high risk for these types of injuries.

Lambert said that the IHSA is not hearing such liability concerns from its member schools. Those schools that have discontinued their football programs in recent years did so primarily because of a lack of players – participation in high school football in Illinois dropped by 25% between 1993 and 2018. While safety concerns certainly play a role in the decline, it can also be attributed to a rise in athletes specializing in a single sport or preferring other interests outside of athletics.

"Playing sports has always included an assumption of risk and it is one of the reasons we talk with student athletes and parents about those risks each year and have them sign waivers. The top objective in our athletic programs is to do all we can to protect students from injury. Especially when related to head injuries, those are taken very seriously," Kirshner says.

In addition to the strict Return-to-Play policies put in place, Illinois high schools are encouraged to establish Return-to-Learn (RTL) practices based on Centers for Disease Control and Prevention (CDC) guidelines. A concussion can have a short-term negative effect on a student's reading speed, ability to do multi-step problems, and overall attention span. The guidelines help ease a student back into a regular learning routine.

"The policies are good. The important next step is to ensure schools are aware of the policies, and that school leaders and staff have access to appropriate education and training on how to create and implement evidence-based return-to-learn protocols," says Cynthia LaBella, MD, medical director for the Institute of Sports Medicine at Lurie Children's Hospital of Chicago.

The institute offers a free online course for school administrators, teachers, and other staff on how to implement RTL guidelines. It also has a concussion care team that works directly with schools to implement protocols and provide solutions to facilitate learning. LaBella believes that the overwhelming majority of schools she has encountered have done a good job with RTL.

"Where I see improvements can be made are with schools that have applied a one-size-fits-all approach to implementing RTL protocols, rather than individualizing plans for a particular student, when needed, based on their symptoms or recovery pattern," she says.

A lot of positive steps have been taken in the 20 years to make high school sports safer. In addition to the increased awareness on concussions, the impacts of COVID, both from the disease itself and the restrictions put in place to slow its spread, have made schools more attentive to the mental difficulties that students are experiencing.

"There is a definite increase in the awareness of the mental struggles an athlete can face being sidelined by their injury whether it be in relation to a COVID policy or an athlete being within a concussion protocol or another type of injury. More resources and partnerships, such as SidelinedUSA, should be explored to educate athletes on the importance of sitting out with such an injury or illness. Mental health issues have been significant, and we continue to work to support our student athletes," Kirshner says.

Sidelined USA is a non-profit organization that provides support to student athletes who have suffered career-ending injuries or have other health conditions that force them out of competition. It offers resources to help them adjust physically and mentally to life without competitive sport and connect them with individuals who have overcome similar obstacles.

Illinois boards of education can refer to sample PRESS policy 7:305, Student Athlete Concussions and Head Injuries and Administrative Procedure 7:305-AP, Program for Managing Student Athlete Concussions and Head Injuries, which apply The Youth Sports Concussion Safety Act (105 ILCS 5/22-80). In addition, a Checklist for Youth Sports Concussion Safety Act, revised in April 2022, is available on the IASB website, see note below.
Dan Naumovich is a freelance journalist based in Springfield. Resources associated with this article can be accessed via the Journal resources page at bit.ly/MJ22JRes.