Beyond the Madness, IHSA Offers the Unforgettable
Commentary
Beyond the Madness, IHSA Offers the Unforgettable
By Matt Troha
Just minutes after Glenbard West High School cemented its legacy as one of the best boys basketball teams in state history, its players exited the floor at the State Farm Center in Champaign chanting "Scales Mound! Scales Mound! Scales Mound!"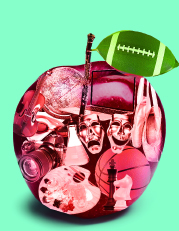 The newly minted IHSA Class 4A champions were just a few weeks removed from playing a game – televised on ESPN and their only loss – against a high school from California that included Lebron James' son. Yet, for all the star power on a team featuring players who are committed to play college basketball for the Fighting Illini, Gonzaga, and Princeton among others, West's focus shifted to paying respect to the players from the tiny high school of 70 students in northwest Illinois who had placed third in Class 1A two days prior. As it turns out, Glenbard West and Scales Mound shared a tournament hotel, and the teams bonded there, leading Scales Mound to show up donning West gear for both Hilltopper contests in Champaign.
It was a heart-warming moment seeing kids being kids, and a fantastic reminder of why the 1,091-day gap that the pandemic created between IHSA Boys Basketball State Final tournaments was so gut-wrenching for so many.
The high school basketball state tournaments in Illinois are known as America's Original March Madness, and to be blunt, they are a big deal. But as we like to say in the IHSA office, every IHSA sport and activity has its own Super Bowl. It is our goal to make the State Finals an unforgettable experience for every student, whether they participate in cross country, bass fishing, dance, or chess. We offer 41 sports and activities, so I won't list them all, but you get the point.
It's what we strive to do as a staff, but it's also not all that we do.
Ultimately, we recognize that a relatively small percentage of student-athletes in the state will have the chance to participate for the state finals, let alone have a state champion medallion dangling from their neck.
The reason we work to make these opportunities possible is because we know the extraordinary value that participating in school-based sports and activities creates for those involved. The data continues to show that students who are involved in school-based programs get better grades, miss less school, and are less likely to get in trouble. Not to mention all the positive physical, social, and mental benefits that participation presents. We recognize that school can be tough for many kids and that extracurriculars can be the carrot that helps keep them engaged and eligible.
But beyond that, think about all the social media clips surrounding high school sports that have left tears welling up in your eyes over the years. A student manager with special needs suiting up and scoring a touchdown, a basketball player with a torn ACL being allowed to get a bucket on senior night, or countless communities rallying together around their high school teams following a tragedy.
High school sports and activities are an extension of the classroom, and empathy, resiliency, compassion, and teamwork are being taught there every day.
No one in our office would ever argue that a Regional plaque or a State Championship trophy are more important than the health and wellness of our communities. We have all seen the impact of the pandemic in our own ways and would never minimize or trivialize it. We did however, work voraciously behind the scenes to try and bring back participation in high school sports and activities in any way possible during the pandemic. We understood the potential toll that not having these programs, and all the aforementioned positives they provide, could have on students and felt like we had mitigations that could allow them to be conducted safely. We experienced varying levels of success in that pursuit, making the past two school years two of the most difficult in the IHSA's 100+ year history. The 2021-22 school year has been a bit of renaissance in that regard, not quite a return to complete normalcy, but a huge step in the right direction.
Over the past two years, I often found myself reflecting on my own high school experience, and specifically how my head football coach Dan Sharp and position coach Dave Douglas were the two most influential adult figures in my life next to my parents at that time. I sincerely believe that the life lessons I learned from being in the orbit of those two men (not that they all sank in immediately) have helped me become a better person, parent, employee, and now board member.
When I started my school board term, a former board member quipped to me that it was universally understood that school board meeting crowds and correspondence grow exponentially any time that sports or food are being discussed (I think it is safe to add masks to that unofficial list now as well).
Coaching at the high school level is harder than it's ever been before. We ask more of our coaches and the unrealistic expectations created by the expanse of travel and AAU programs have led to exacerbating parental pressures. Many of these coaches are also teachers, and I don't think I need to tell you what the past two years have been like for them.
Thus, as fellow school board members, I simply encourage you to recognize how important these sport and activity programs are to our students and be sure to reflect on how you can best support them.
Building programs with strong positive leaders who instill character and confidence in your students is a winning formula, even if every season won't end in a state championship. And who knows, like Scales Mound, you may still end the year with fans chanting your name.
Matt Troha has served as an Assistant Executive Director for the Illinois High School Association since 2008 and was elected to the Board of Education for Heyworth CUSD 4 in April 2021.