Supporting English Learners during COVID-19
Supporting English Learners during COVID-19
By Rebecca Vonderlack-Navarro and Karen Garibay-Mulattieri

The COVID-19 pandemic led to a drastic change in education around the world. For the first time schools across the globe were forced to close their doors and deliver instruction through virtual formats. In the United States, various societal disparities — food insecurity, job loss, limited access to technology, and higher positivity rates to the virus — that existed before the pandemic were exacerbated in the face of crisis, particularly in vulnerable communities.

The Latino Policy Forum contends that these unprecedented times are an opportunity to dismantle aspects of education that fail to serve vulnerable students equitably and bring to the fore innovative ways to accelerate learning. By sharing the following for decision-makers and school leaders regarding productive investments and best practices for serving children growing up in Illinois Latino and immigrant communities during the pandemic, it is the hope that these recommendations promote equity for children on their way to learning English to support their overall achievement.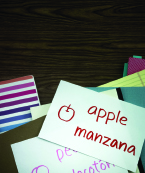 The damage caused by the COVID-19 pandemic has been especially acute for Illinois' Latino and immigrant communities compounding both health and economic inequities. Latinos have the highest case-positivity rate of all racial-ethnic groups in Illinois at 55% as of May 2020 (compared to an overall state case-positivity rate of 16.7%). Latinos and immigrants have suffered both from being overrepresented in industries that were closed down during the pandemic and jobs qualifying as essential workers. This has created immense economic consequences for Latino communities. In addition, an estimated 40% of Latino households are mixed-status and thus have been ineligible for federal stimulus funds under the CARES Act.

In the face of such adversities, the children in these communities need specific supports to foster optimal learning opportunities. Many children of immigrants identify as English Learners (ELs) representing approximately 12% of students statewide; this student group grew 58% between 2005 and 2018, according to the Illinois School Report Card 2018. This growth has been throughout Illinois, with a significant increase in the suburbs. ELs reside in 92 of 102 Illinois counties. More than 70% of ELs are Latino and Spanish speaking.

Many ELs are low-income and come from homes with limited resources and internet capacity to support remote learning. Research from "New America: Differences in Hispanic-Latino Families' Access to and Use of Educational Media" shows:
27% of bilingual families do not have access to a computer or the internet. They are more likely to utilize mobile devices which are limiting and can prevent families from engaging in certain learning activities.
For school-aged children, sustained activities such as homework or research are not feasible on a mobile device.
E-learning is often not tailored to meet diverse language needs.
Latino children, many of whom begin their schooling as ELs, are less likely to have a parent at home to support their e-learning. Even when parents are available, many lack formal education and may have language barriers.

Successful investments that boost EL achievement will need to be comprehensive attending to the academic, emotional, economic, and technological needs of students and families.

Recommendations for Effective Investments to Support EL Education
These recommendations are meant to guide district planning and budgetary decisions to best support English Learner education during the pandemic and into the future. The recommendations are intended to supplement the remote learning guidance issued by the Illinois State Board of Education (ISBE) with fuller consideration for supporting linguistically and culturally diverse students.

Investments in EL education must be thoughtful, equity-driven, and informed by research-based best practices. The federally legislated CARES Act, aimed at responding to the fallout of the pandemic, stipulates that special attention be provided to ELs. The Illinois Evidenced-Based Funding formula allocates funding specifically for ELs. If not spent appropriately, however, these students will not reap the benefits of this funding system. These recommendations cover four major areas of potential investment:
Essential supports and wraparound services to meet the basic needs of Latino and immigrant families
Professional development for educators specific to EL education
Parental involvement that is linguistically and culturally responsive; and
Access to technology and broadband.


Recommendation 1
Partner with community organizations to provide basic needs and wraparound services to support vulnerable immigrant families and communities. Young students cannot learn if their basic needs and emotional health are not attended to. Young EL students are facing unprecedented challenges given the pandemic. Educational approaches must prioritize the whole child. Trauma-informed practices and socio-emotional supports must be sensitive to the experience of young learners growing up in these communities. Ideas for practice and potential areas of investment include
Collect student and family information districtwide through the development of an intake survey, as suggested by the ISBE guidance. The survey should serve as a needs assessment to guide district planning and resource investment, with particular attention to mental health, nutritional, and transportation needs. Surveys must be conducted in a family's home language.
Develop Memorandums of Understanding (MOUs) with local community organizations to coordinate service delivery and referrals. Districts and communities need to prepare to support families if and when a viral resurgence occurs. Districts must also prepare to support students and families through past traumas that occurred during the shutdown.
Prioritize the provision of mental health services for students and families who are dealing with loss due to the pandemic. These services should be responsive to linguistic and cultural diversity.
Recommendation 2
Develop plans for developmentally appropriate remote learning that is both digital and non-digital. Practitioners are seeking comprehensive professional development opportunities specific to teaching young ELs in the pandemic: optimal virtual formats for language and content development, linguistically and culturally responsive socio-emotional learning opportunities, and best practice for connecting with families. The medical and child development fields need to come together to develop recommendations to guide best practices in remote learning for the young child. Guidance from these experts would form the foundation for professional development. Ideas for practice and potential areas of investment include
Provide professional development for teachers on developmentally appropriate virtual remote learning for children ages 3-8. Engage experts from the medical field, early childhood research, and early elementary to guide this training.
Co-develop professional development opportunities with technology teachers, specifically related to the different platforms available for virtual learning. Leverage the expertise of EL educators in the district to choose platforms that are optimal for building academic content along with language learning. These platforms should be sensitive to how to build oral language development.
Provide professional development on effective student hands-on activities during remote learning.
Provide ample teacher planning time to coordinate formative assessments and to gauge outcomes of different types of learning activities.
Provide professional development on trauma-informed training opportunities and tools sensitive to ELs and their families.
Recommendation 3
Districts must prioritize family engagement and communication efforts — both virtually and in-person — that are responsive to the unique needs of linguistically and culturally diverse communities. Even before the pandemic, inequities existed in the amount of information available to non-English speaking parents. Districts that were proactive in engaging parents of ELs oftentimes relied on face-to-face meetings or gatherings. These parents tend to have unique work schedules, language barriers, and limited access to broadband/internet and technology. Now that in-person meetings are discouraged, districts must be innovative in determining ways to provide parents access to critical information in a timely and safe manner. Ideas for practice and potential areas of investment include
Create authentic opportunities to hear from families about what is and is not working in this new learning environment.
Ensure equitable sharing of critical information in multiple languages and in various modes of communication.
Hold virtual office hours during the evening weekly. Many students may have parents who are considered "essential workers" and work during instruction time. Holding flexible office hours allows students and parents to ask questions at a time more accessible to them.
Develop a communication campaign that provides positive messages to parents in various languages. Have these messages translated and posted in different district communication forums (Twitter, Facebook, newsletter, school bulletin, email, online learning platforms, school website, side of public transportation, billboard, etc.)
Encourage families to submit pictures or videos of completed activities. Use these pictures/videos to showcase and feature the families on a regular basis. This celebration will encourage increased participation and mitigates social isolation experienced by children and families; these social interactions are critical for development.
Recommendation 4:
Develop and implement short- and long-term technology plans to promote equitable online learning opportunities for low-income immigrant communities. Ideas for practice and potential areas of investment include
Establish a long-term vision for technological access. Districts should view this as an opportunity to conduct a needs assessment regarding digital access, with specific attention to vulnerable populations.
Provide students and families with access to Wi-Fi hot spots (e.g. using buses as mobile hotspots or providing families with downloadable material on flash drives.)
Prioritize providing support for linguistically diverse families on when and how to use devices and learning platforms (e.g. create student- and family-centered help desks).
Bilingual Learners should be provided with opportunities to utilize their home language within digital learning whenever possible.
Prioritize the use of media platforms to meet the socio-emotional needs of students. Ideas include the creation of a Zoom parade to make up for lack of contact; Zoom meetings with classes were a critical social time for students. Foster opportunities for students to meet virtually; pair ELs of the same language background for authentic conversations.
The vision of the education department of the Latino Policy Forum is that Latinos and English Learners from early childhood through 12th grade receive equitable educational opportunities leading to economic prosperity. The authors of this piece recently co-authored the Illinois English Learner Handbook: A Guide for School Board Members, District Administrators, and Principals, in collaboration with the Illinois Principals Association, Illinois Association of School Boards, and the Illinois Association of School Administrators.
Rebecca Vonderlack-Navarro, Ph.D., Is Director of Education Policy and Research for the Latino Policy Forum, with publications and advocacy efforts to provide thoughtful consideration about the interconnectedness of language, literacy, and academic achievement. Karen Garibay-Mulattieri is Senior Policy Analyst for the Latino Policy Forum and has more than 35 years of experience as a bilingual teacher and administrator within various Illinois districts, the State Board of Education, and internationally.