IASB Directors Discuss, Determine Board Goals for Year
Date Posted

September 2, 2022

Category

News
Meetings of the IASB Board of Directors took place on August 26 and 27 in Tinley Park.
Directors discussed activities for the upcoming year related to the Association's strategic priorities, conducted a self-evaluation, and reviewed policies for the operational expectations of staff.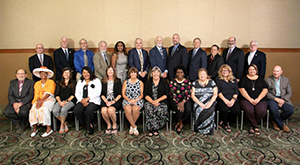 During the quarterly business meeting, directors considered additional recommendations brought forth from a review of the Association's Resolutions Process and Constitution. At its June meeting, the Board approved constitutional amendments to be presented at the Delegate Assembly. Directors approved an additional amendment that would change officer terms from two, consecutive one-year terms to a single two-year term. Another amendment approved requires that resolutions receive a two-thirds affirmative vote by the Delegate Assembly for passage. Currently, resolutions require a simple majority vote for passage at the Delegate Assembly.
Constitutional amendments will be voted on at the Delegate Assembly on November 19 in Chicago.
In other board action, the annual audit report was approved, as were rules for the Delegate Assembly. Directors also heard updates on the Consortium of State School Boards Associations (COSSBA), IASB Division Meetings, and the Joint Annual Conference.
Directors are scheduled to meet again on November 17 and 20 in Chicago. IASB members can access approved minutes from previous meetings on the
IASB website
.