Juli Gniadek of Downers Grove CHSD 99 named 2022 Holly Jack Award winner 
Date Posted

November 11, 2022

Category

Conference
Juli Gniadek, assistant to the superintendent and secretary for the Community High School District 99 (Downers Grove) Board of Education, has been named the winner of the 2022 Holly Jack Outstanding Service Award, presented annually for district office and board secretaries. She will be honored Friday, November 18, as part of the Administrative Professionals' Program at the Joint Annual Conference in Chicago.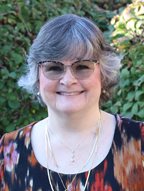 A committee of previous Holly Jack Award winners, Illinois Association of School Administrators and Illinois Association of School Business Officials past presidents, and retired administrative professionals selected Gniadek for the honor. The judges considered the criteria of performance, initiative, innovation, staff development, self-improvement, passion for public education, and dedication to the district and community.
Nominations were made by district superintendents and school board presidents. Letters of support from District 99 administrators, board members, and staff spoke of Gniadek as "caring, diligent, and a careful listener and trusted confidant." District 99 Board Vice President Michael Davenport referred to Gniadek as the district's "very own fairy godmother with all the magical prerequisites."
"Juli exercises her special powers with great care. She never acts as an impassable gatekeeper to our superintendent. Rather, she's a facilitator keeping us connected to each other. She is the invisible force that binds us together, making sure all voices are heard, seeking out answers to questions, and helping new board members feel welcome and armed with the information needed to engage," said Davenport. "Her empowerment skills are otherworldly."
"She supports the board and the office of the superintendent by always performing at the highest level, which sets an example for everyone who works with her," Hank Thiele, District 99 Superintendent, said. "She provides essential feedback in the most difficult of situations that are directed to the office of the superintendent. Juli is unyielding in her commitment to ensure that people feel heard and supported by the district. More than anything, Juli represents an honest and true level of caring service to everyone around her."
District 99 Board President Nancy Kupka emphasized that Gniadek's dedication and passion are what sets her apart. "This is not a job for her, this is her calling," reiterated Kupka. "Words cannot adequately express Juli's contribution to the district, the board, and the community. She is dedicated to improving not only the quality of education but also the lives of those in our community. For Juli, this is not a job, this is her life's work."
Since 2014, Juli Gniadek has served as the assistant to the superintendent and secretary of the Community High School District 99 Board of Education in Downers Grove. After having grown up in the District 99 community and training as an educator, Gniadek returned to the district in a support role. Her background and dedication provide a unique perspective to her position that positively impacts and influences district students and families.
The Holly Jack Outstanding Service Award is named in memory of long-time Illinois Association of School Boards employee, Holly Jack, who served as an IASB field services administrative assistant and was instrumental in promoting and developing professional development programs for board secretaries. The award recognizes the dedication to service and extraordinary work contributions of administrative professionals who serve and assist their local boards of education.