Board of Directors Holds Quarterly Meeting, Strategic Review
Date Posted

September 10, 2021

Category

News
IASB director meetings August 27-28 included board learning and strategic review in addition to the Board of Directors' quarterly look at board policy and monitoring reports.
Association officers and 21 division directors met with Executive Director Tom Bertrand to discuss a three-year strategic plan for Fiscal Years 2022-24. The plan includes actionable steps to provide support to members and demonstrate operational effectiveness. New indicators of success will include results from member surveys on satisfaction and engagement. The Board also conducted its annual self-evaluation.
During its quarterly meeting the Board received updates related to IASB resolutions, Joint Annual Conference, legislative, and Service Associates activities. The Board also discussed membership and recent activities of the National School Board Association.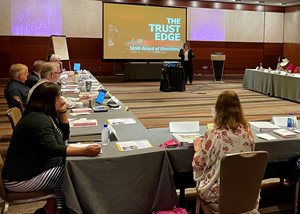 IASB Field Services Director Lori Grant presented a preview of an IASB in-district workshop, The Trust Edge Experience, available to member districts. The presentation shared strategies for solving challenges, improving productivity, and contributing at the highest level.
It was the first quarterly meeting for newly elected Three Rivers Division Director Liz Campbell. Newer division directors participated in an orientation session to learn about policies for board accountability, expectations for the executive director, and meeting processes.
The August meetings were held at the Hyatt Regency Chicago, the same venue where the Association will gather for the IASB/IASA/IASBO Joint Annual Conference in November. The Board of Directors will also meet during that time.