Board Member Turnover Rate Crept Higher in 2021
Date Posted

October 1, 2021

Category

News
The April 2021 election saw the overall net turnover percentage for board members in the state of Illinois rise from 18% in 2019 to 19.3% in 2021.
Out of 5,838 school board seats, 3,160 seats were expiring. Of those, 61.7% were retained.
Despite the higher rate, this is the second lowest turnover rate on record. The highest, 24.6%, was in 1997.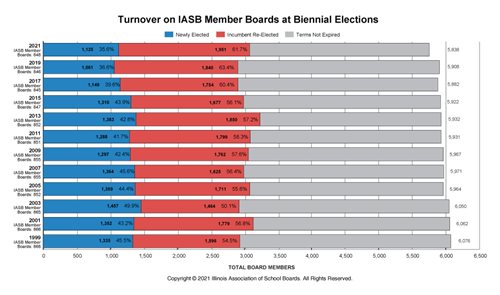 Most governing school boards in the state consist of seven members elected to serve four-year terms. Terms are staggered so there are three or four seats contested at each election, held the first Tuesday in April in odd-numbered years.
IASB has reported turnover data for the past 26 years based on membership records. Currently, 848 public school districts in Illinois hold active membership in the Association. Historical board turnover data is available
here
.