JAC Reminders: Badges, App, and Outreach
Date Posted

November 5, 2021

Category

Conference
The countdown is on for the 88th Joint Annual Conference, presented by IASB, IASA, and Illinois ASBO November 19-21, in person, in Chicago.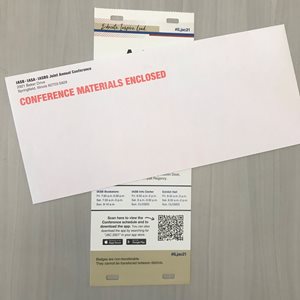 Conference attendee badges have been mailed to districts. Be on the lookout for an envelope marked "CONFERENCE MATERIALS ENCLOSED" which contains badges for registered Conference attendees and guests of the district. If your district has registered and not received this postal mailing, please email registrar@iasb.com.

Badge-holders can bypass the Conference Registration Desk at the Hyatt Regency but are welcome to stop by for program books, lanyards, ribbons, and answers to questions. Badges for IASB Pre-Conference Workshop registrants will include a code to entry to the workshop at the Sheraton Grand.

The Conference App is now available for download on iOS and Android devices. It can be found in your App Store by searching "ILJAC21." The app includes a searchable schedule with presenters, panel descriptions, session times, and room locations. App users can create a personal Conference schedule, as well as access a listing of exhibitors, General Session speakers, #ILjac21 Twitter posts, additional reminders, and helpful information.

An essential part of Joint Annual Conference experience is sharing the valuable information you learn with your community. IASB has prepared outreach materials to assist districts in this effort. Advance talking points are available to spur discussion within your district, proactively document professional development experiences, and share how the training will benefit your district and its students. Also included are press release templates that can be added to your district letterhead and adapted with district budget figures to help explain costs and fiscal benefits of attending Conference.

In the weeks leading up to Conference, you can stay up to date with information posted at www.iasb.com/conference/ and use the hashtag #ILjac21 for announcements on Facebook and Twitter.