School Design Projects Sought for Educational Environments Awards
Date Posted

May 24, 2021

Category

News
The IASB Service Associates are once again sponsoring the annual Invitational Exhibition of Educational Environments (EEE). Nominations are now open for the awards program that recognizes school designs for instructional, recreational, administrative, or other use. Projects submitted for the EEE competition must be completed in time for the start of school in the fall of 2021.

Eligible projects must be new or renovated facilities owned or operated by or for an Illinois public school district. Entries will be accepted for the following categories:
New building
Major addition
Minor addition
Major renovation or adaptive reuse
Special project (historic preservation or sensitive rehab)
Special project (small projects under $4 million or single spaces)
Special project (engineering solutions)
All entries will be reviewed on a blind basis by a jury comprised of three architects chosen by Service Associates and three school board members or administrators selected by IASB. All jury members will have experience in school facilities or design. Projects selected for the final exhibition will be displayed in November at the Joint Annual Conference in Chicago.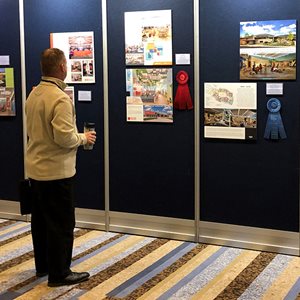 Those reviewing the projects will have complete freedom in selecting entries that best represent a statewide cross-section of school building designs of interest to attendees of the exhibition.

Initial entry forms and associated fees for each project must be received in the IASB Springfield office by Monday, July 12. The jury will judge submissions on September 16. After judging, entrants will be notified by email whether their project has been selected for display at the exhibition.

School designs selected for the exhibition will be eligible for Award of Distinction, Award of Merit, or Honorable Mention honors. Entry fees will be refunded for entries not selected for the final display.

Applications were emailed to district superintendents and school architects in early May. A fillable application with detailed instructions, exhibition criteria, and notable deadlines is available in the 2021 EEE Call for Entries.

For questions about the Exhibition of Educational Environments contact Britni Beck at bbeck@iasb.com, or at (217) 528-9688, ext. 1131. Additional information Invitational Exhibition of Educational Environments and exhibits displayed at previous contests can be found on the EEE webpage.