IASB Board Meets, Monitors Progress toward Strategic Priorities
Date Posted

May 7, 2021

Category

News
The Board of Directors of the Illinois Association of School Boards met in person on April 24 for its quarterly meeting to review policies and membership and to receive updates on strategic initiatives that include staffing. Four division directors step off of the Board due to terms expiring in April.

IASB Executive Director Thomas Bertrand shared progress on the Association's strategic priorities. Metrics pertaining to key member services were noted, including response time to district policy service subscribers and virtual workshops presented, as well as the development of an Equity, Diversity, and Inclusion Plan for internal work.

Bertrand shared plans for staffing to align with strategies for the Association to reinvest in member services and support equity, diversity, inclusion, and racial justice within IASB and its membership. Nakia Hall, Ed.D. will lead the Association's new Field and Equity Services Department as Associate Executive Director beginning June 1. Hall is currently a Field Services Director for the South Cook, Three Rivers, and West Cook divisions. IASB has also filled a part-time human resources position.

Regarding Association finances, the picture for the fiscal year ending June 30, 2021 improved from earlier assumptions, due to federal pandemic relief funding and reduced expenses. IASB staff is in the process of building the FY22 budget. The Association plans to hold membership dues flat for the next year, and there will be no increase to Joint Annual Conference registration fees.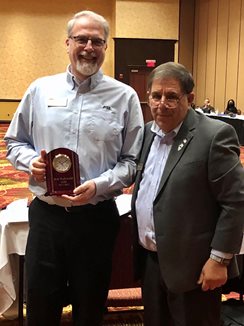 Directors also received report summaries of IASB virtual program participation and were updated on current plans for IASB to hold an in-person Joint Annual Conference this November.

In Board action, policies regarding the operation of committees, board development, and staff accountability were approved. The Board also took action on Service Associate membership recommendations. A directory of Service Associates is available online and printed in each issue of the Illinois School Board Journal.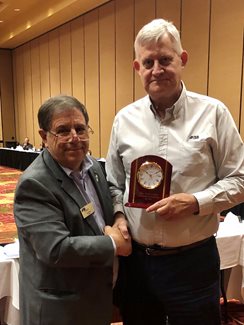 Retiring Directors Bill Alexander of the Abe Lincoln Division and Rob Rodewald of Three Rivers were presented with clocks to honor their four years of service on the Board. Not present were directors Denis Inboden of Wabash Valley and Lanell Gilbert of the South Cook Division, who served six and two years respectively. The four IASB Divisions may appoint acting directors until Division Governing Meetings are held to elect officers.

When approved, minutes of the IASB Board of Directors meetings are posted on the IASB website. The next quarterly meeting is scheduled for June 12 in Springfield.