Writer, Activist, Comedian: Thurston to Kick Off Virtual Summit
Date Posted

October 23, 2020

Category

News
In "How to Deconstruct Racism One Headline at a Time," Baratunde Thurston will present the opening keynote at the 2020 IASB Virtual Summit on November 20. Thurston invites audiences to build organizations and societies that recognize the value of us all.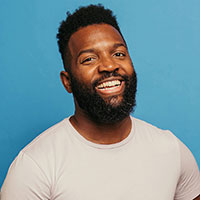 Thurston is an Emmy-nominated host who has worked for The Onion, produced for The Daily Show, advised the Barack Obama White House, and wrote the New York Times bestseller How To Be Black. He's the executive producer and host of two podcasts: "How To Citizen with Baratunde" and "We're Having A Moment." He's also the creator and host of the weekly pandemic show, "Live On Lockdown."

Thurston's mind, forged by his mother's lessons and polished by a philosophy degree from Harvard, has found expression in the pages of Fast Company and the New York Times; the screens of HBO, Comedy Central, CNN, MSNBC, and BBC; and the sound waves of National Public Radio and many podcasts including his own. He has hosted shows and stories on NatGeo and Discovery's Science Channel and earned a Daytime Emmy nomination for hosting the Spotify/Mic series "Clarify."

"How to Deconstruct Racism One Headline at a Time," Thurston's morning keynote at the IASB Virtual Summit, will be based on a TED Talk of the same title, which has been called one of the greatest TED Talks of all time. The writer, activist, and comedian uses his powerful voice to help people understand this revolutionary moment with his unique blend of insight, humor, and empathy.

The IASB Virtual Summit will run from 9 a.m. to 3 p.m. and features two acclaimed keynote speakers, four live presentations from Illinois school districts, updates from IASB Executive Director Thomas E. Bertrand, and the opportunity to join a virtual networking chat to connect with peers and IASB staff. In conjunction with the Virtual Summit, IASB's Online Bookstore will feature selected titles for a limited time, including Thurston's book, How to Be Black.

Registration is open through November 19. Visit the IASB Virtual Summit webpage for complete details.