Laurie Taylor of Skokie SD 73.5 Named 2020 Holly Jack Award Winner
Date Posted

November 19, 2020

Category

News
Laurie Taylor, administrative assistant to the superintendent and Skokie District 73.5 Board of Education, has been named the winner of the 2020 Holly Jack Outstanding Service Award. The honorary award is presented annually for administrative professionals that serve as a superintendent's secretary, superintendent's administrative assistant, or school board recording secretary and that have performed the duties of a board secretary for a minimum of five years.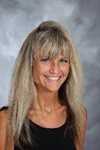 Taylor, who has served the past 23 years as administrative assistant at Skokie, was chosen for the award by a selection committee of previous Holly Jack winners, Illinois Association of School Administrators and Illinois Association of School Business Officials past presidents, and retired administrative professionals. The judges considered the following criteria: performance, initiative, innovation, staff development, self-improvement, passion for public education, and dedication to the district and community.
Nominations were made by district superintendents and school board presidents. A number of letters of support from current and past Skokie 73.5 board members and administrators described Taylor as an inspiration to students and staff, and an individual that shows tremendous compassion for the community. Her colleagues referred to her as the "embodiment of care, concern, and compassion" while having "the institutional knowledge to keep everyone and everything on track."
"She goes above and beyond to ensure families receive what they need to successfully support their child's education," said former Skokie SD 73.5 Board Member Scott Bramley. "She is a teacher, trainer, guardian, and comforter — whatever role is needed in the moment. The district would not function without her. She excels in all areas and makes the district stronger and more effective at achieving its mission of serving all students."
Skokie 73.5 interim Superintendent Ellen Correll echoed those comments. "Her initiatives keep us on track and help the district to maintain its excellent reputation. She upholds the vision and mission of the district and her work ethic demonstrates this," Correll said. "It is clear that Laurie has a passion for the district and it is important to her to make sure that she does all she can to maintain the excellent reputation of the district."
The Holly Jack Outstanding Service Award is in memory of long-time Illinois Association of School Boards employee Holly Jack, who served as an IASB field services administrative assistant and was instrumental in promoting and developing professional development programs for board secretaries. The Award recognizes the dedication to service and extraordinary work contributions of administrative professionals who serve and assist their local boards of education.
The Holly Jack Award is normally presented at the Joint Annual Conference in November. Due to the cancellation of this year's Annual Conference, the 2020 award presentation is part of a
virtual event for Administrative Professionals
on November 19.