We Asked, You Answered
Date Posted

February 7, 2020

Category

News
IASB's membership survey is coming soon. The 2020 survey is new, improved, much shorter than previous surveys, and focuses on the Association's communications efforts.
Anticipating the next IASB constituent survey, here's a look back at data from the 2018 edition.
In every survey to date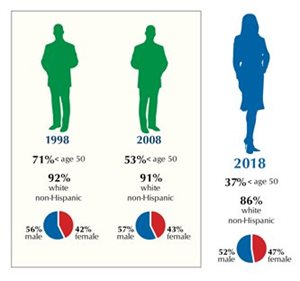 , IASB has asked demographic questions to determine how to improve services and support for various subsets of school district respondents. In 2018, we learned that board members — or at least survey respondents — are getting older. In 1998, 71% of responding board members were under age 50. In 2008, it was 53%. In 2018, only 37% are under age 50. Data also shows that more women are involved in board work than 10 and 20 years ago. Will these trends continue in 2020?
Recognizing that you don't have to be a Millennial to be tech-savvy, and you don't have to be a Boomer to appreciate a good book, the information informs how IASB reaches its constituents. IASB will ask school board members, superintendents, and others who use the Association's programs and services how they prefer to receive information. The survey will also seek feedback on the new IASB website, and help the Association develop new programs on topics of interest to members and constituents.
Watch your email and postal mail for links to the new IASB Communications survey, coming in late February.