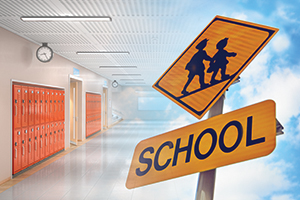 It is vital for school district personnel and the community to have the latest information to keep their schools safe. This half-day School Safety and Security Seminar hosted by IASB will be open to all district and community personnel who oversee any aspect of school security.
The Seminar will highlight local, state, and national leaders in the fields of school safety and security.
Online registration for the School Safety and Security Seminar is closed.

Friday, November 22
7:45 a.m. to 11:30 a.m.
Hyatt Regency Chicago (held in conjunction with the Joint Annual Conference)

School Safety and Security Seminar fee
IASB member district participants must be registered for the Joint Annual Conference in order to attend the Seminar.
School board members and administrators are encouraged to invite their local emergency responders, school resource officers, school security directors, facility directors, and others who help prepare and carry out security procedures on their campuses to attend. Non-members should register by phone.
For additional information contact Chris Montrey, 217/528-9688, ext. 1143.