Advocacy Angle: Illinois Introduces a Staggering Number of Bills
Advocacy Angle: Illinois Introduces a Staggering Number of Bills
By Zach Messersmith
If you have heard a Legislative Update of the Illinois Association of School Boards Government Relations staff in the past few years, you have seen citations of statistics about the number of bills filed in the Illinois General Assembly and how many of those impact public school districts and boards of education. While these statistics are important, they only paint a partial picture. To help complete that picture, let's compare Illinois to other states and discuss the total number of new laws impacting public schools in Illinois.
With this information, we hope school board members in Illinois will better understand the importance of their role as advocates for students and local communities.
During the current Illinois General Assembly session, over 12,000 bills, resolutions, and Constitutional Amendments have been introduced. While that number is staggering, it may be even more shocking that a vast majority (10,013) of those are substantive bills. It would be easy to ascribe this to the 102nd General Assembly making up for lost time due to the pandemic, but as you see in the chart below, the introduction of upwards of 10,000 bills is not a new trend.
While 10,000 is the magic number for the Illinois General Assembly, other states do not line up in a similar pattern. We compared the number of bills introduced in state assemblies across a selection of states. We attempted to choose states with smaller populations, larger populations, and similar populations. We also chose a random sampling that covered the country from coast to coast.
The sheer volume of bills introduced in Illinois is mind-boggling when compared to these states, however, that does not tell the whole story.
While school board issues cover a wide range of topics in the Illinois General Assembly, IASB spends most of its lobbying issues in the Education Committees. In addition to the Senate Education Committee, the House Elementary and Secondary Education: School Curriculum Policies Committee, and the House Elementary and Secondary Education: Administration, Licensing, and Charter Schools Committee, IASB tracks legislation in dozens of additional committees.
During the current 102nd General Assembly, IASB tracked 1,126 House and Senate Bills. The number of bills impacting public education in Illinois is more than all bills introduced in the Ohio Legislature. While the importance of IASB tracking and influencing bills cannot be understated, the ultimate number is 289. Two hundred and eighty-nine bills impacting public education have become law in this General Assembly, with still more potentially to come. When we look at Ohio again, we see that it has enacted 101 pieces of legislation into law in its current General Assembly. That is not 101 new school laws; that is 101 total new laws, including school issues like consolidation, but also other non-school issues like bird sanctuary license plates.
I must admit that as a Michigan football fan, it is difficult for me to say anything good about the State of Ohio, but Ohio takes the opposite approach to legislating that Illinois does.
While there are many reasons for this disparity, and Ohio is a clear outlier (just as Illinois is) among the states we looked at, it should matter to Illinois school board members because IASB has a clear Position Statement on limiting bill introductions. IASB Position Statement 3.03 reads: "The Illinois Association of School Boards shall encourage the Illinois General Assembly to limit the quantity of legislation introduced in each two-year period to allow time for each bill to be researched, debated, and thoroughly investigated before action by the General Assembly."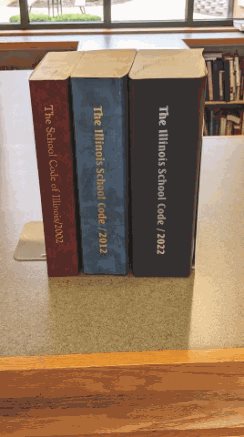 As you can see in the photo on this page, over the past 20 years the School Code has grown significantly. Not only has the volume increased but the mass is up as well with IASB's printed school code service now weighing in at 6 pounds. Several years ago, the Illinois House of Representatives adopted a resolution warning of the dangers of heavy backpacks. Let's hope our students are taking the safe route and opting for a digital copy of the Illinois School Code.
While the directive is clear for IASB, school board members are not off the hook. IASB Position Statement 3.01 also clearly outlines the need for member involvement by stating "The Illinois Association of School Boards shall continue its legislative involvement and encourage increased legislative activity by local school board members at the district, division, and state levels while providing leadership in guiding those board members in their efforts to seek public support of legislation essential to good school government."
We hope that seeing the data behind bill introductions in Illinois encourages you to get involved in the legislative process. To have success in limiting bill introductions in January, conversations with General Assembly members about the volume of new laws impacting Illinois schools need to start now.
While advocating on behalf of your school district and your community can seem like a daunting task, it all comes down to basic relationship-building. The first question you need to ask is, "Who is my Legislator?" Once you know who you are reaching out to, it takes three simple, but important steps: Form relationships, hone your message, and engage your community.
Zach Messersmith is Director of Governmental Relations for the Illinois Association of School Boards. For more information on how to advocate on behalf of your school district, check out the Advocacy tab on the IASB website at IASB.com.