Front Page
By Theresa Kelly Gegen
You may never know the magic of a moment until it becomes a memory.
While attending my daughter's performance at the IHSA Organizational Music Contest in Taylorville in April, I was moved to tears. The performance was so beautiful, and I was a proud parent. I was grateful that the event could take place at all, given the months of separation we've endured. I was reminded that there is a place for everyone in the arts and despaired when I realized that children who most need such a place might never experience it.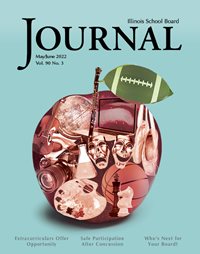 I also recalled one of my own high school music contests. I believe it was at Millikin University, decades ago. It was our first contest after our eccentric, demanding, feared, and adored band director, Mr. Tony Mazzara, passed away. We had a new director who lasted that one school year. It's fair to say we were childishly, collectively, grievingly rough on Mr. Mazzara's replacement. For the first time, we felt unprepared for contest. Dressed in black tuxedos with ruffled shirts and red cummerbunds, we assembled, tuned, and awaited our turn, under hot, bright stage lights in an otherwise pitch-dark auditorium. I recall a long wait. A very long wait. Someone said, and soon we all whispered, that Mr. Mazzara was with us. And so we played. We played as if we were playing for him and with him. We played as well as we ever had and made the most gorgeous music we could. Afterwards, as I tend to do, I wept. But on that musical and magical night, my bandmates and the director did, too. It was a moment, beautiful, tragic, unforgettable, and brought to us by the arts.
This issue of the Journal celebrates extracurricular activities. There more than we can mention – matches, musicals, meets, and marches; clubs, competitions, and contests; dances and dojos; esports, ensembles, and etcetera – and these extracurriculars are vital to and for our kids.
A few of my fondest memories as a sports parent are of Illinois Elementary School Association (IESA) events. The 2012 cross country meet in Normal where there was a flooding rain all morning, but they ran the races eventually, hundreds of kids covered in mud up to their waistbands and not minding a bit. Three nights of road trips for the 2019 volleyball regional in Bethalto, where a team discovered itself. And the regional championship in Jacksonville the following year, which that same team won, but the rest of the tournament was lost to coronavirus.
As school board member and IHSA Assistant Director Matt Troha says in a commentary in this issue, "I simply encourage you to recognize how important these sport and activity programs are to our students and be sure to reflect on how you can best support them."
Realizing that most don't require encouragement in this arena, I hope school board members in Illinois support and enjoy the full measure of the magical moments extracurriculars hold for their communities, schools, and most of all, students. Fair warning, if you are nostalgic, tenderhearted, prone to crying for any reason, love a good story, or have seen the impact of these times on kids, this issue of the Journal might get you emotional. These are not tears of tragedy, frustration, or despair, but the tears of nostalgia, heart, and hope.
Theresa Kelly Gegen is Editor of the
Illinois School Board
Journal.