Illinois Teacher Shortage Crisis: Quick Fixes and Long-Range Solutions
Illinois Teacher Shortage Crisis: Quick Fixes and Long-Range Solutions
By Hans A. Andrews and William A. Marzano
Teacher shortages are a continuing and growing crisis, in Illinois and most other states. This has been recognized for several years: There are decreasing numbers of students entering colleges and universities with the goal of entering the teaching field, and a higher number of teachers are leaving the profession and/or retiring early. With the goal of showing Illinois school board members that the best solutions to overcoming the Illinois teacher shortages are within each school board's own district, this article details some short-term fixes and offers ideas for the long term, to once again draw students into a career of teaching.
"We can't just replace empty teaching positions with anyone and hope the quality will be the same. We must do what it takes to recruit the best into the profession and do what it takes to retain them."
— Sharon Domine, Teacher by Passion
Illinois school board members and their school administrators have to wonder why the shortages of full-time teachers, substitute teachers, school support personnel, bus drivers, and others continue to exist and are leading the state education system into a crisis situation.
There are two key questions for school board members to ponder relative to their teacher and staff shortages: Can our present system prepare enough new educators to overcome these shortages and prepare and provide the diverse education graduates that our P-12 schools across the state need? And, are the senior four-year colleges and universities able to close this gap?
The answer to both questions is no. The present system is unable to meet these needs and has not been able to do so for a significant number of years. Without major changes in direction, the teacher shortages in Illinois will continue and grow.
Documenting the Problem
In 2020 over 6,000 teaching and support staff positions were reported unfilled in Illinois. Additionally, a late 2020 study by the Illinois Teacher Retirement System (TRS) showed a 50% increase in retirements over the previous year. A survey of Illinois teachers found 1/3 indicated they were considering leaving teaching. The three most reported reasons were "don't want to be a teacher anymore," "considering early-retirement and re-evaluating my career path," and "… 'burnout' from having added work responsibilities and having to prepare for both in-class and remote learning lesson plans."
The latest 2021 Illinois report of shortages was gathered through the 26 regional superintendents and identified 6,200 teacher, substitute teacher, and other staff shortage positions. This was up from the 4,800 in 2020.
Quick Fixes Proposed and Implemented
For the 2021-2022 school year, quick or short-term fixes have been proposed or are being utilized in Illinois to provide adequate numbers of teaching and support personnel at all levels. Among these are
Bringing back retired teachers (under new legislation passed for the 2021-2022 school year);
Current full-time teachers taking on more workload (six classes instead of five, for example)
Employing visiting foreign teachers to fill immediate teacher shortages; and·
Using paraprofessionals and not-fully-credentialed substitute teachers
If the teacher shortages were isolated in Illinois, another solution would be to work to attract credentialed teachers from other states not experiencing this condition. However, that option does not exist. A 2021 survey by the Frontline Education Company of nearly 1,200 school districts throughout the country reported shortages in 75% of urban districts, 65% of rural districts, and 60% in suburban districts. These high percentages document this as a national issue with a majority of states struggling to staff their classrooms properly. As in Illinois, other states are getting by with short-term solutions. Some short-term fixes being employed in bordering states:
In Kentucky, retired teachers can be returned to the classroom full-time with a full-time salary and no deductions to their retirement pay. About 650 teachers will be hired in this program, which pays retiree salaries through the state's pandemic relief money.With 1,561 vacancies in elementary education, 851 in special education, and 253 in early childhood, in Missouri vacancies were filled with less-than-fully-certified teachers.
Wisconsin has loosened some restrictions, and teachers can teach in some subjects that they are not credentialed to teach. Rural schools, considered "shorthanded everywhere," have staff members assuming additional roles, and districts are trying to retain retirement-eligible teachers.
In Indiana, administrators are trying to improve teacher pay and benefits, which lag behind neighboring states. Indiana also reports burnout due to heavier class loads, low pay, and lowered morale. Emergency permits to hire non-licensed teachers were applied for by 85% of the districts.

Low Salaries Persist
A research study published by Linda Darling-Hammond, president of the Learning Policy Institute, listed several major factors leading to the high attrition of teachers throughout the country:
Inadequate compensation
Poor teaching conditions
Lack of administrative support
Inadequate investments in preparation and mentoring
Lack of respect and voice in school decision-making
Inadequate opportunities for learning and collaboration
While the supply of new teachers is low, losing the retention battle, due to these above factors, contributes further to the growing shortages. How does low pay impact the ability to attract and retain individuals in the profession? A recent Chicago Tribune article reported that Amazon had announced plans to hire 125,000 more workers nationwide, with beginning pay of $15 an hour (and in some places, $18, which is $36,000/year for 2,000 hours worked). In the same article Kroger announced 20,000 positions needed to be filled and pay could go to $22.50 per hour for the new hires ($45,000/year). These pay announcements add to the challenges school boards have to overcome in addressing low pay for teachers in many Illinois school districts and other states throughout the nation.
In most states, the average salary for a teacher begins at just over $30,000. In Illinois, the current entry-level teacher salary ranges from $34,944 at the 10th percentile to $59,754 at the 90th percentile. Illinois Public Act 101-0443 establishes minimum salary levels for full-time teachers in Illinois at $32,076 in FY2021, increasing to $40,000 in FY2024. Illinois teacher average pay in 2020-2021 was reported as $69,300. States offering the highest average salaries were: New York ($87,069); California ($84,531); and Massachusetts ($84,290). Those states with the lowest average salaries were: Mississippi ($46,843); South Dakota ($48,984); and Florida ($49,102).
In 2019-2020, starting teacher pay reviewed in nearly 12,000 public school districts averaged $41,163. The same study found in 6,100 districts, 800,000 teachers were not yet making a $40,000 starting salary. These salaries are losing ground against the ever-increasing wages offered in the private sector, in which many jobs require only high school level credentials. School districts must consider elevating salaries to attract and retain teachers as a component of a sustainable solution to the current teacher shortage.
In addition to inadequate compensation in today's economy and job market and the other factors listed above, teachers report the emphasis on high-stakes testing as a detriment to their continued careers.
Long-Range Solutions Proposed
Many of the short-term solutions involve getting more mileage out of existing faculty, retired faculty, and increasingly, non-credentialed individuals. However, only increasing the supply of new persons into the teacher preparation pipeline will solve the teacher shortage.
What should be the key components in addressing teacher shortages over the foreseeable long term? These components should be much more sustainable in overcoming the teacher and staff shortages in the years ahead. They are:
Expanding educational pipelines to attract more students into teaching careers;
Changing existing higher education models to expand teacher preparation; and
Expanding partnerships and pathways for educational agencies to work together.
Educational Pipelines — More high school students need to receive counseling for choosing teacher preparation as a career option to help increase the number of new educators entering the profession. Educators Rising programs have proven to attract significant numbers of high school students to learn about and consider teaching as a career option. These programs can be established as an extracurricular activity or as a course about the teaching profession. This could be offered as a dual-credit college course with the local secondary school or nearby community college or four-year university. Recently, Illinois approved Career and Technical Student Organization status for the Educators Rising program, providing for unlocking of the federal Perkins Act funding for schools to go the club/extracurricular route.
These programs succeed in creating pathways into teaching for a diverse student population. School districts that add Educators Rising programs open the door much wider for attracting future teachers with social-economic and ethnic backgrounds reflective of their communities. This program can encourage the district to help select students to help consider being educators and whom, in the near future, may wish to return to their school districts as fully credentialed teachers.
New Educational Models — The present higher education system of Illinois has been in place since the mid-1960s. Community colleges were given the ability to grant two-year associate degrees and one-year career-oriented certificates, while four-year colleges were designated as bachelor's degree-granting institutions.
Changes and needs of P-12 school districts have evolved greatly in recent years and now is the appropriate time to design and make the changes in the existing educational model. Changes need to be made quickly to accommodate and solve the challenges that currently exist. Teacher shortages have changed everything. The "how" and the "where" of the educational model on baccalaureate degree preparation needs to be revised and expanded, giving consideration to utilizing the state community colleges to be part of the solution. Here is how one university is including community colleges throughout its efforts.
Eastern Illinois University (EIU) is underway in attacking teacher shortages through the Rural School Initiative. Working with 10 area high schools at first, EIU also partnered with regional offices of education and community colleges. The backbone of this program includes:
Creating more dual-credit education courses — that transfer to teacher education — for high school students;
Connecting high schools and community colleges in supporting high school students interested in teaching; and
Providing monthly experiences for future teachers to visit schools and learn from P-12 educators.
This program has cohorts in the pipeline in special education and elementary education in Jasper and Vermilion counties respectively, and now has expanded this program into Champaign.
The present four-year colleges and universities are unable to attract and graduate adequate numbers of education majors needed by the state P-12 school districts. Strong consideration needs to be giving to expand the teaching and awarding of baccalaureate degrees in more institutions than are presently charged with recruiting and preparing certified teachers. Granting community colleges the ability to now offer teacher baccalaureate degrees is a time that has come. Offering these programs at community colleges is presently available in a growing number of states; those states will more quickly catch up and close the growing teacher shortages gaps.
One of the first such baccalaureate degree-granting programs in community colleges was the baccalaureate of science degree in nursing (BSN). This has been helping fill the large gap that existed in preparing adequate numbers of BSN graduates throughout the country.
A hard-earned example of getting a baccalaureate degree program approved to be offered through community colleges in Illinois is the baccalaureate program in Early Childhood Education, recently passed by Illinois legislators and an excellent example of what can be accomplished by someone determined to solve an existing problem. Baccalaureate degrees in Early Childhood Education can now be offered at Illinois community colleges and build upon the existing Associate Degree programs presently offered throughout the state by community colleges. State Senator Cristina Pacione-Zayas of Chicago introduced this option and then pushed at all levels of the state government to get it accepted. The diversity of teachers in early childhood teaching positions will show significantly higher growth in the next few years and help fill the large gap existing in having highly educated personnel and teachers in early childhood school and agency programs throughout Illinois.
Partnerships and Pathways — Another creative "grow your own" model has existing education components collaborating closely to create pathways for teacher education. In 2019, Southern Illinois University (SIU) piloted a program titled "Scaling Education Pathways in Illinois." The program provided funding to eight communities for an initiative that streamlines career paths for prospective teachers. The program provides teaching career preparation in high schools, which can be extended to the post-secondary level, in order to enable a diverse group of students to more readily become the educators of tomorrow.
Essentially, the SIU partnership involves six area high schools, two community colleges, and the senior institution of SIU. While students are still in high school, they can take two of SIU's required teacher education program core curriculum classes through the partner community colleges and earn dual credit. Students will also receive College and Career Pathway Endorsements with their high school diplomas. The next step in the pathway for the students is enrollment and completion of the associate degree at their community college. Students then transfer to SIU to complete their teacher education program. As part of their experience, students spend 60 hours observing and assisting teachers in classrooms, take part in parent and community engagement activities, tutor students and engage in other projects that enable them to explore careers in teaching.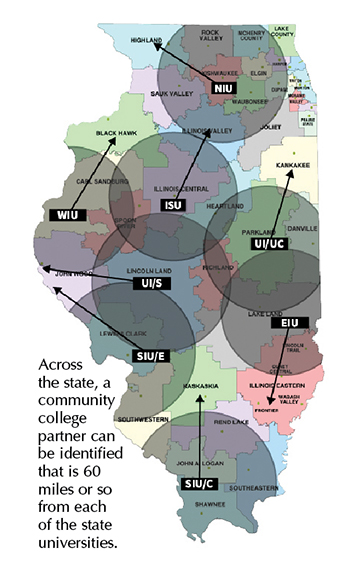 Scaling Education Pathways in Illinois (SEPI) is administered by the Education Systems Center at Northern Illinois University (NIU) and supports more than a dozen similar partnerships/pathways throughout the state. Recently, a partnership engaging East Aurora USD 131, West Aurora USD 129, Waubonsee Community College (WCC), and NIU was launched with guidance and support from the Community Foundation of the Fox River Valley. The districts commit to providing students with career counseling, mentoring by a teacher of similar demographic background, observation opportunities, and student teaching assignments. In return they look to these students to consider job opportunities at their schools upon completing their teacher education. Additionally, WCC and NIU have collaborated to streamline the curricular pathway and offer opportunities for community college students to connect with their university peers. The ultimate goal of this partnership is not only to increase the number of new teachers but to increase the diversity of the new faculty. Located in the Aurora area, WCC has successfully been hiring diverse teaching and administrative staffs that much more clearly reflect the diverse area population of their college district.
During Fall 2019, Elgin Community College (ECC), in partnership with NIU, launched its Elgin Community College Cohort 2+2 with 15 students. Having completed the associate degree at ECC, students enrolled full-time in junior-level education classes taught by NIU faculty at the ECC campus. These students next worked towards a bachelor's degree in elementary education along with a Bilingual/ESL Endorsement. This first cohort graduated from NIU in May 2021. A second cohort started this pathway in Fall 2020, and another is scheduled to start in Fall 2021. With the success of the partnership ECC is mapping a pathway for early childhood education and special education cohorts to be offered on their campus for either 2022 or 2023.
Dual-Credit as a Base Program Provided by Community Colleges
The first dual-credit program in Illinois first started between Illinois Valley Community College and Marquette Academy. This also became the first such program in the country between community colleges and secondary schools and paved the way for these most important cooperative efforts throughout Illinois and the rest of the country. Students have been able to earn enough community college credits to complete one semester, one year, and most recently, an associate degree by the time they graduate from secondary school. Every community college brings in many students that reflect the social-economic and diversity of their service area communities. This is true as well in the dual-credit programs. Many secondary school students in Illinois now obtain one semester, one year, or up to two years of college credits by the time they graduate from their high schools. This provides a major portion of a baccalaureate degree. This is both a major time saver in terms of semesters and/or years for these students who may move into teacher education degrees such as outlined above with SIU.
These new educational models of higher education and partnership/pathways do much to address affordable and accessibility concerns and contribute greatly to creating a sustained pipeline for the preparing of future educators. These recently developed pathways should give incentives and direction for continued expansion throughout the state in a reasonably short time.

Call to Action
Illinois is a state rich in potential and resources, and capable of being a leader in addressing the teacher shortage. We challenge elected board members of our Illinois school districts to recognize and implement solutions that are available to them.
If not already present, establish an Educators Rising club. If access and affordability are barriers to growing a new crop of teachers, partner with community colleges and neighboring universities to create pathways of teacher preparation. Doing so will draw upon a diverse student population which will not only increase the number of new teachers, but will also advance the diversity of the teaching ranks.
If additional funding is needed, districts can call on their banks, industries, businesses, and community foundations. Such funding can be used to develop scholarships to assist students on pathways to completing teacher preparation. School board members can, additionally, contact their state senators and house legislators to support and fund the creative new higher education paradigms and partnerships. Hopefully, the examples here can be emulated at a quicker pace throughout the state. The need is now! The crisis of the teacher shortage continues to grow. Every school district in the state would benefit from board members, regional superintendents, and state legislators working together to implement sustainable solutions to the teacher shortage. It will be up to the school boards of Illinois to decide how to move forward. We, the authors hope to have convinced Illinois school board members that the best solutions to overcoming the teaching shortages are right within their own school districts,
Hans A. Andrews, Ed.D., is the Distinguished Fellow in Community College Leadership, Olney Central College, where he previously served as president. He held leadership positions at Illinois Valley Community College and Kellogg Community College. He served as a business teacher and as a counselor at secondary school and college levels and is also an author on the dual-credit system. William A. "Bill" Marzano, Ed.D., completed his doctorate in post-secondary curriculum and instruction from Illinois State University. Now retired, he is a former instructor at Illinois Valley Community College, a key administrator at Waubonsee Community College, and a senior human resource manager in the private sector. Resources associated with this article, including more on the authors' work and links to information on the proposed fixes for teacher shortages, are available at the
Journal
resources page at
bit.ly/ND21JRes
.