Career and College Advisement Goes Virtual in 2020
Career and College Advisement Goes Virtual in 2020
By Ken Wallace
In late Winter 2020, once we knew that our schools were being closed due to the coronavirus pandemic, our career team began meeting to pivot to virtualized experiences to serve District 207 students and families during this unprecedented time. This work was driven by two key thoughts. First, we want to do everything within our power to make sure that our seniors had their career plans finished to the extent possible to help them successfully transition to the next chapter of their lives, whether it be work, training for work, military, apprenticeships, or college. Second, this virtual environment presented a great opportunity for us to engage our underclassmen in deeper work than we might have otherwise been able to do.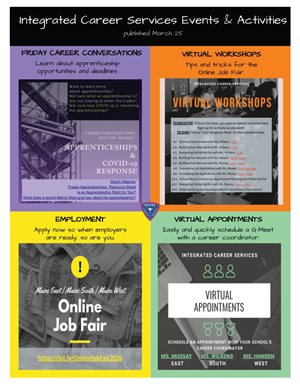 Our Career Pathways team, led by Career Coordinator Laura Cook, worked with our Career and College Specialists to design a regular series of virtual opportunities, some of which are our regular offerings, some of which include virtualized experiences. These are modeled in a calendar of events our student can access. For example (see graphic), a late-March Friday Career Conversation invitation offered three sessions and read "East, South and West ... Apprenticeships & COVID-19. I will give a short update on the current standings for apprenticeship programs and answer your questions!" The list of Virtual Workshops for that week included Building Your Resume, Navigating Online Job Fair, Career Conversations, Completing Job Applications, Virtual Mock Interviews, and the Understanding YouScience Results Workshop.
Having established strong routines and practices has allowed us to quickly pivot in this space to do our very best to continue serving our stu dents in the pursuit of their futures.
Ken Wallace, Ph.D., is Superintendent at Maine THSD 207 and
wrote about the district's Getting it Right programs
for the
Journal
.