In Memoriam: Former IASB President Robert Reich
December 21, 2020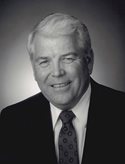 Robert D. Reich of Bourbonnais, a former president of the Illinois Association of School Boards, died December 13, 2020, at the age of 90. A former retail sales manager and business consultant, Reich served as IASB president in 1992 and 1993.
Among the highlights of his term as president, was Reich's push for a comprehensive needs assessment survey of the Association's membership. In addition to a written survey of members, this effort included strategic planning sessions, and gathering ideas through focus groups, beginning at the Joint Annual Conference in 1992.
In addition to serving on his local school board for 26 years, including 12 years as president at the Bourbonnais Elementary District 53 Board of Education, Reich was a director of the Three Rivers Division for nine years (1983 to 1992). He served on the IASB Executive Committee from 1990 through his terms as president and past president, including two years as vice president and resolutions committee chair.
Reich was active in many NSBA roles, including service on the Policies and Resolutions Committee, the President's Task Force on Public School Governance, the Task Force on Regional Elections of NSBA Directors, the Nominating Committee, the National Board for Professional Teaching Standards, and the NSBA Summer Trainers Academy.
In his address to an NSBA Task Force on Public School Governance in March of 1993, Reich said, "Making board service more rewarding also means boards must move away from their preoccupation with the routine, day-to-day operation of schools and focus their attention on the crucial governance issues of goal setting, assessment of results, and advocacy for children."
Reich offered this advice to board members in IASB's 2013 Centennial publication: "Serve the office for the right reason. Board members should reach decisions that result in the best learning environment for students."
Former IASB employee Pat Culler recalls working with Reich during his time on the IASB board and getting to know his family.
"Bob's warm, engaging personality as a consensus maker served him well at his local, state, and national pursuits and he soon became sought out for not only his sound reasoning, but his considerable leadership skills," said Culler. "He was dedicated to the advancement of public education at all levels and gave unstintingly of his time and intellect to its cause."
Born September 28, 1930, in Decatur, Bob married Mary in 1953; they moved to Bourbonnais in 1958, and had three children. His wife Mary survives, along with daughter Pam (Ted), grandchildren Drew (Cristina) and Briana (Samuel); son Rob (Caroline); and daughter Beth (Andrea), grandchildren Peyton, Bennett, and Emerson.