March 13, 2017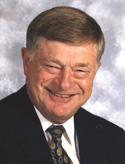 Douglas P. Blair, a longtime leader in Illinois education who worked for 34 years at the Illinois Association of School Boards, died Friday, March 10, 2017. He was 82.
Blair began his IASB career in 1976 as a field services director for local districts in the Central Illinois Valley, Corn Belt, Two Rivers, Abe Lincoln, Illini, and Shawnee divisions. He served in that department and was its senior director until 2008, when he moved into the Association's executive searches department. He retired in April 2010 but continued as a part-time consultant. Over his career, Blair was involved with approximately 500 superintendent searches.
Prior to his time at IASB, Blair spent 20 years in education as a teacher, principal, and superintendent. He completed his undergraduate, graduate, and doctoral work at Illinois State University.
Known throughout Illinois as an advisor and mentor to aspiring education leaders, Blair received the Exemplary Service Award from the Illinois Association of School Administrators in 2004. He also participated in the "Education is Key" oral history project conducted by the Abraham Lincoln Presidential Library and Museum. Blair also reflected on his career and service to school boards in the IASB centennial book, "1913-2013 Lighting the Way for 100 Years."
Visitation will take place at Staab Funeral Home in Springfield on Saturday, April 1 from 2-4 p.m. A memorial service at the same location will immediately follow at 4 p.m. Read the complete obituary here.